Why People Will Spend $120,000 for a Chair
The high-end design market has exploded in the past decade, with prices now edging into art world territory—and that's no coincidence.
by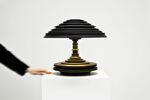 Jeanne Greenberg Rohatyn, the owner of the New York gallery Salon 94 and a prolific private art collector, buys mostly "living artists," she says. "Marilyn Minter, David Hammond, Richard Prince." She also buys design objects—couches, chairs, tables, and home decoration—that match. "The idea of collecting or living with furniture from the same generation of artists was interesting to me," she says.

Rohatyn started to buy design slowly, she says, though over the past decade her pace of acquisitions has quickened. At this point, her house is filled with high-end design, which generally describes furniture or home objects that cost at least several thousand dollars. A "Sequins" mirror by the midcentury designer Line Vautrin from 1961 sold in June at Phillips in New York for $137,000, for instance.
"It's seeped in everywhere," Greenberg Rohatyn says, "even if it's in a children's room."
Rohaytn's collecting habits are a symptom of an exploding high-end design market, wherein such stars as the Haas brothers, fraternal twins born in 1984, sell their shiny metallic "Hex" stools for $30,000.
Three years ago, the same stool sold for $3,000, says Zesty Meyers, a co-founder of R & Co., a TriBeCa design gallery that represents the brothers. "We must have sold six of them in the first week," he says.

Another one of R & Co.'s artists is Brooklyn's Jeff Zimmerman, who makes large-scale brass chandeliers replete with hand-blown light fixtures that start at $125,000. Eight years ago, Meyers says, the same pieces sold for just $10,000. "What makes Jeff so successful?" he asks rhetorically. "When he gets inside the space, the starchitect has already built the dwelling, the art collection is most likely already in place, and the decorator has already decorated," he says. "Jeff is the glue between those things."

Even as design prices skyrocket—a sideboard by Paolo Buffa sold for 40,000 pounds ($61,000) above a high estimate of 15,000 pounds last month at Phillips London—the equivalent art market is growing even faster. The market for 20th century and contemporary art reached an unprecedented €9.2 billion in 2014, according to the TEFAF Art Market Report, which has helped to create the perception that design is still a bargain. "Yes, design is pricey," says Greenberg Rohatyn. "But it's not as pricy as art."
This notion—that design is both a bargain and, increasingly, an essential part of an art collector's home—has fueled growth in contemporary design galleries around the globe. Carpenter's Workshop Gallery, which was founded in London in 2006 and opened a branch in Paris in 2011, has just opened a sweeping showroom on the top two floors of New York's Takashimaya building on Fifth Avenue. "People want exceptional high-end furniture that's going to match the quality of what they have on the walls," says Loic Le Gaillard, who co-founded the gallery, which shows such artists as Wendell Castle, whose work can sell for more than $300,000.

Despite record growth, the market remains comparatively tiny. Le Gaillard, for instance, estimates that he has between 200 and 300 regular buyers. Meyers says that he'll write around 700 invoices this year. Compare that to the art market, where approximately 1,530 lots sold for over 1 million euros last year, around 96 of which sold for more than 10 million euros, according to the same TEFAF report.
Le Gaillard also partially credits the boom in the design market to a boom in design coverage. "If you look at the size of the market compared to its media exposure, it's tremendous," he says.
But this kind of enthusiasm can have a downside—not everything is as excellent as it may appear at first glance in a gallery, or on the Internet. And at auctions, excitement is deliberately juiced: Last month, dizzy observers watched a side table by Jean Royère from 1963 soar past a high estimate of 95,000 pounds to sell for a total of 158,000 pounds ($241,000) at Phillips London.  "There's more information, but it has its own pitfalls," says Suzanne Demisch, a co-founder of the New York gallery Demisch Danant, which specializes in mid-century French design. "It's like diagnosing yourself off of WebMD.com or something: just because you see it online doesn't mean it's true," she says. "I'm a big supporter of selling things in the real, and understanding what you're buying."

Demisch, who represents such furniture designers as Maria Pergay, whose work ranges from $15,000 to $500,000, depending on the object and the year it was produced, cautions against making direct comparison between the art market and the design market. "They're two different things," she says.
"A lot of things drive a price" for a design object, Demisch says. "It's new to the market, there's more players, if something's trending and there's a limited supply, and there's also a sheep mentality, where if all of your friends have it, you want it."
Rohatyn Greenberg, who is an occasional client of both Demisch and Meyers, isn't overly concerned about trends. "The whole pleasure and joy of adding a contemporary piece of furniture into your mix is that it has its own aura," she says. "I'm not worried about great design running out." Indeed, it isn't; an upcoming auction at Phillips New York next month boasts a pair of Corbusier chairs with a high estimate of $120,000, a chair by Marc Newson with a high estimate of $80,000, and a glass chair by Shiro Kuramata with a high estimate of $70,000.
Before it's here, it's on the Bloomberg Terminal.
LEARN MORE