Why 2,500-Year-Old Tale Gives Ma Hope for Chinese Democracy
by and
Taiwan leader says ancient statesmen shows heritage of dissent

Change on mainland accelerating, but still very slow, Ma says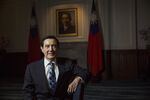 Taiwanese President Ma Ying-jeou said history gives him hope for political change on the Communist-ruled mainland. He's not talking about the rise of a liberal democracy like in the West, but ancient China's own lessons on dissent. 
Asked about the prospects for political change in modern China, Ma cited the example of Zichan, a statesman who lived during the country's Spring and Autumn period some 2,500 years ago. Zichan, so the stories go, refused to close a public forum where citizens criticized the government, arguing the state needed to hear the people's complaints. Confucius later praised him as an exemplary leader.
"The respect for dissent isn't exclusive to the West," Ma said in an interview with Bloomberg on Thursday as his eight-year tenure as president enters its final months. "This thinking also existed in ancient China. I want them to believe that it's not that we worship the West. We are restoring values from our ancestors that deserve to be cherished."
Ma's trying an argument he hopes will resonate 180 kilometers (112 miles) across the Taiwan Strait, where the President Xi Jinping's Communist Party has deemed "Western" concepts such as "universal values" and press freedom a threat. He advocates an alternative model rooted in Chinese culture, speeding the rehabilitation of the same Confucian traditions Mao Zedong tried to wipe out. 
Since coming to power in 2012, Xi has intensified crackdowns on dissent, jailing rights lawyers and journalists and banning party members from criticizing the official line. The moves have discouraged many in Taiwan and elsewhere who hoped China's economic liberalization would eventually prompt political reform.
'Getting Faster'
Ma said change comes slowly in such a large country, but was accelerating as technology and people's livelihoods improve. He previously cited the Zichan example in a June essay to mark the anniversary of the Communist Party's bloody suppression of pro-democracy demonstrators in 1989.
"Compared to the past, to before the introduction of the Internet, the pace of change is getting faster," Ma said. "When a society gets richer, its members, especially the middle class, will want greater participation in public affairs. They may not be able to immediately, but the desire remains."
"Over the long term, I do think they will change, but not very quickly," Ma said.

Ma spoke in a room in the Presidential Office building in Taipei that featured a portrait of Sun Yat-sen, regarded as the father of modern China by both the Communists and Ma's Kuomintang, or Nationalist Party. He showed an enthusiasm for Chinese culture by demonstrating his calligraphy skills for visiting journalists.
Closing the Gap
The president said that mainland China's economic clout required world leaders to engage with it, no matter what they thought of its government. Ma has negotiated more than 20 economic deals with Beijing during his tenure, helping lift cross-strait relations to their highest point since the Nationalists fled to Taipei during the Chinese civil war. 
Those efforts culminated with a handshake between Ma and Xi in Singapore earlier this month, the first meeting between leaders from both sides since Mao toasted Nationalist leader Chiang Kai-shek in 1945. Ma was criticized by Taiwan opposition leader Tsai Ing-wen -- who's currently favored to succeed him in Jan. 16 elections -- for not mentioning democracy during the public portion of the meeting. 
"In my meeting with Mr. Xi, I raised with him the development and fruits of Taiwan's democracy," Ma said. "If I have the opportunity in the future, I will remind him this is what the Taiwanese people value, and if there are developments on this front, it will help close the gap between us."
Before it's here, it's on the Bloomberg Terminal.
LEARN MORE