Where Have All the Arbitrageurs Gone?
Odd dislocations in the markets can prove stubborn without traders willing or able to iron them out.
By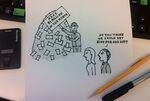 "Take this money," the markets shout. "We don't want it," market participants yell in response.
Where once unusual market dislocations would lure a host of traders eager to profit from the temporary distortions, a deluge of post-financial crisis changes is now dissuading them from doing so. With balance sheets at the big dealer-banks under pressure and hedge funds unable or reluctant to put on trades, odd dislocations in the markets can now persist indefinitely.
Some worry that these newly stubborn ructions in esoteric corners of the global financial system could exacerbate market moves, especially as the Federal Reserve inches closer to raising U.S. interest rates for the first time in almost a decade. 
"As arbitrage goes away, directional moves can become more exaggerated," said Peter Tchir, head of macro strategy at Brean Capital. "In the short  term, as relationships break down, people have to 'de-risk'  as old relationships don't hold."
The lack of arbitrageurs has manifested itself in a number of rare market events in recent weeks, the most prominent being swap rates trading below equivalent U.S. Treasury yields. So-called negative swap spreads would historically have drawn traders eager to iron out the kink in the usual state of financial market affairs, but regulatory and cultural change, combined with some additional year-end pressures, are said to have prevented them from doing so.

"It speaks about balance-sheet limits and a growing fear of losing money short term," said Brian Weinstein, chief investment officer at Blue Elephant Partners and a former managing director on BlackRock's fixed income team. "The willingness to carry a losing trade for too long has gotten smaller and smaller."  
An erstwhile army of proprietary traders at big banks has been wiped out by post-financial-crisis rules that prohibit them from trading for their own accounts. Even hedge funds may now be unwilling or unable to exploit small discrepancies in the market; many such funds rely on balance sheets extended through banks' prime brokerage businesses to make these trades.
"There's been a general reduction in relative value or market-making capital," said Jeff Meli, co-head of research at Barclays. "There were lots of investors ... looking for these relative value trades and dislocations, and they had the money to put it together. Now there's less money for that."
Meanwhile, in currency markets, a similar distortion has emerged in the so-called one-year cross-currency basis swap rate between euros and dollars, which is also in negative territory. In credit, the difference between cash bonds and derivatives has also remained large, where once it might have been arbitraged away by traders with the wherewithal to do so.
"There is far less appetite and patience for such trades due to credit charges, considerations around balance sheets, changed trader mandates, much tighter risk management control, and narrower stop-loss limits," said Triple T Consulting's Sean Keane. "To do these trades, you also need to have patience to sit with them for weeks or months until the basis returns to normal or the pricing anomaly is finally removed."
Low interest rates are also said to have dissuaded hedge funds from such trades, according to some market participants. Where once the funds could rely on cash positions to yield a few extra percentage points of returns from interest, allowing them to take on more positions, that cash "cushion" has been eroded by years of monetary policy at the zero bound.
"At some point this trend can be self-propagating," said Meli. "If I thought that there were lots of arbitrageurs out there, then I'm really confident putting a trade on. Right now there's a little bit of a reassessment going on where market participants are trying to figure out what is the maximum extent of dislocation that can happen before people come back in."
Idiosyncratic events have likely exacerbated the dislocations, with a tidal wave of new debt issuance identified as one factor pushing swap spreads into negative territory as investors rush to offset the new debt, for instance. The looming year's end, when the balance sheets and results of banks and hedge funds will be scrutinized by regulators and investors, is also said to have reduced risk appetite.
"The hedge fund community generally downsizes into December so they can realize any mark-to-market gains," Keane said. "This year hasn't been as good for many as they would have wanted, and any gains are likely to be closed out and crystallized before year's end. The market will thus look to close down risk, rather than to add new positions."
That might yet yield a reduction in some of the recent market ructions as the year-end passes and traders return to capitalize on the dislocations. Already there are signs of some daring investors stepping into the breech. 
"We feel that much of the capitulation has now passed," Mark Dowding, partner at BlueBay Asset Management, wrote in a note last week. "Where we have been running swap spread widening positions, which have gone against us, we are more inclined to add to these positions looking for valuations to return to normality over the medium term."