VW Said to Suspend 5-Year Investment Plan on Scandal
by
VW to review program to spend 17.1 billion euros a year

Budget timeframe could be cut for first time since debt crisis
Volkswagen AG will abandon its practice of setting a rolling five-year investment budget for the first time since 2012 amid the European debt crisis as it grapples with the fallout from the unfolding emissions-cheating scandal, people close to the company's supervisory board said.
With recalls, fines and lawsuits pending, the 20-member body will meet Friday to discuss investment cuts as well as potentially shortening its spending plan to three years or less to maintain flexibility, said the people, who asked not to be identified as the matter is confidential. Volkswagen declined to comment on its budget ahead of the meeting.
VW managers and labor leaders are wrangling over projects for the group, which spans 12 brands and more than 300 models. Cuts in the previous budget, which called for investment of 17.1 billion euros ($18.3 billion) a year on vehicles, factories and technology development, are certain. The namesake VW brand has already vowed to trim expenses by 1 billion euros a year, and Chief Executive Officer Matthias Mueller last week planned to complete talks with workers by Friday on investment and capacity plans.
VW has increased annual investment spending by 66 percent since 2010 and has room to cut capital expenditures and development costs by 10 percent, Evercore ISI estimates. 
"For too long, VW has been run for global domination and sheer growth rather than efficiency and value creation," Arndt Ellinghorst, a London-based analyst with Evercore ISI, said in an e-mailed note. "Looking at VW's cost base one has to conclude that something has gone terribly wrong since 2010."
China Investment
In addition to the internal discussions, VW is under pressure from regulators to finalize fixes for 11 million vehicles with diesel engines rigged to circumvent emissions tests as well as explain how an additional 800,000 vehicles had inaccurate carbon-dioxide labels. The California Air Resources Board has set a Friday deadline to present a remedy plan for the nearly 500,000 affected cars in the U.S. German motor-vehicle agency KBA is currently reviewing a repair proposal presented on Monday.
VW set aside 6.7 billion euros in the third quarter for fixing rigged diesel cars and estimated damages from the carbon-dioxide irregularities at about 2 billion euros. The Wolfsburg-based company has said the costs will likely rise. VW's previous investment plan also included an additional 4.4 billion euros in annual spending at the manufacturers' two Chinese joint ventures, which are self funded.
As part of its investment review, Volkswagen is delaying its plan to boost its stake in its joint venture with China FAW Group Corp. by two to three years. VW had sought to reach a decision by the end of the year to raise its 40 percent stake in the FAW entity. The German company was seeking a more balanced structure similar to the 50/50 structure with SAIC Motor Corp.
Watch Next: The Long Rise and Rapid Fall of Volkswagen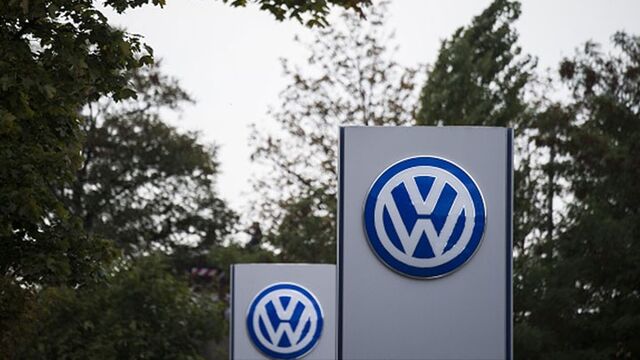 (Corrects timeframe for budget changes in first paragraph.)
Before it's here, it's on the Bloomberg Terminal.
LEARN MORE