U.S. Stocks Close Little Changed After Fed-Fueled Rally Stalls
by
Health insurers weigh as UnitedHealth considers Obamacare exit

Keurig Green Mountain, Smuckers soar as profits beat estimates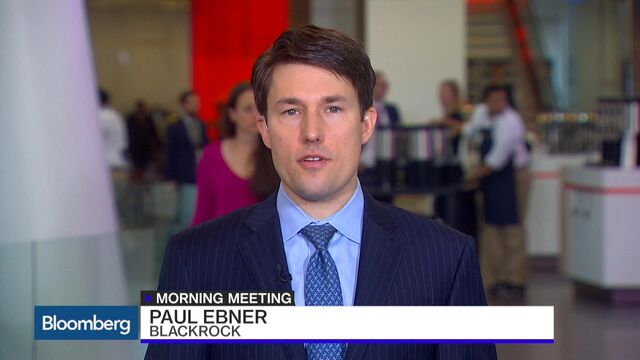 U.S. stocks struggled to add to the biggest rally in nearly a month, as a profit warning from UnitedHealth Group Inc. jolted the health-care sector while energy producers followed oil lower a day after the Federal Reserve eased concern that higher interest rates would derail economic growth.
UnitedHealth Group slumped 5.7 percent after saying it may pull out of the Obamacare insurance exchange market amid high costs. Competitors Anthem Inc. and Aetna Inc. fell more than 6.5 percent. Consumer staples and technology shares countered with gains as Keurig Green Mountain Inc. jumped 18 percent on better-than-expected results, while Salesforce.com Inc. and Intel Corp. rallied on a stronger-than-estimated sales outlooks.
The Standard & Poor's 500 Index slipped 0.1 percent to 2,081.24 at 4 p.m. in New York, with the gauge trading in its tightest intraday range since May 22. The Dow Jones Industrial Average lose 4.41 points to 17,732.75, and the Nasdaq Composite Index declined less than 0.1 percent. About 6.5 billion shares traded hands on U.S. exchanges, 13 percent below the three-month average.
"The market probably needs to move sideways here for a while," David Spika, global investment strategist for GuideStone Capital Management, said by phone. "The way we rebounded from the correction was very rapid. There are more reasons to go down than up."

Minutes from the Federal Reserve's October meeting released Wednesday indicated that policy makers believe the economy is strong enough to withstand higher rates as early as next month, while stressing that the pace of any tightening will be gradual. That message yesterday helped unleash a rally that sent the S&P 500 to within 2.3 percent of its May all-time high.
The gauge is up about 11 percent from the bottom of a summer selloff sparked by worries that a slowdown in China's economy would spread. Caution over the impact of China's weakness kept the Fed from raising rates in September.
Recent data has bolstered the case for raising borrowing costs for the first time since 2006, with the latest payroll report -- released after the Fed's October meeting -- showing the biggest increase in hiring this year. A report today showed initial jobless claims continued to hover around four-decade lows as the labor market strengthens toward full employment.
Data Watch
The Philadelphia Fed's monthly business outlook unexpectedly rose in November, while an October index of leading economic indicators gained for the first time since June. Traders are now pricing in a 68 percent probability that the Fed will raise rates next month.
The earnings season is drawing to a close, with 95 percent of S&P 500 companies having reported. Of those, 74 percent beat earnings estimates, while 44 percent exceeded sales forecasts. Analysts project profits for index members dropped 3.7 percent in the third quarter, compared with for a 7.2 percent decline at the start of the season.
The Chicago Board Options Exchange Volatility Index rose 0.8 percent Thursday to 16.99, after sliding the most in nearly four weeks yesterday. The measure of market turbulence known as the VIX is up about 13 percent this month after posting its biggest monthly drop ever in October.
Seven of the S&P 500's 10 main groups advanced, with technology, utilities and phone companies rising the most. Health-care companies fell 1.6 percent, and energy retreated along with oil prices.
Salesforce.com rallied to a record after forecasting stronger-than-estimated sales in its approaching fiscal year, demonstrating growing demand for cloud-based software. Also boosting the tech group, Intel surged 3.4 percent after saying 2016 sales will climb in the "mid single-digit" percent range, making the case that it doesn't need a buoyant personal-computer market to achieve growth. Analysts had estimated growth of about 4 percent. Apple Inc. gained 1.3 percent, rising for the third time in four days.
Keurig, Smuckers
Joining Keurig Green Mountain at the top of the consumer staples group, J.M. Smucker Co. jumped 7 percent to a record. The food maker's quarterly profit beat estimates, helped by demand for coffee products including its new Dunkin' Donuts-branded pods. Coca-Cola Co., Keurig Green Mountain's largest shareholder with a 17 percent stake, added 2 percent, the most in four weeks.
Amid the dollar's biggest slide in a month, companies that benefit from a weaker U.S. currency gained. Kraft Heinz Co., Campbell Soup Co. and Philip Morris International Inc. each increased at least 0.8 percent.
Square Inc. and Match Group Inc. jumped in their first day of trading, after pricing initial public offerings low enough to entice investors rattled by choppy markets, as well as bulls confident in their growth prospects. Square surged 45 percent, while Match advanced 23 percent.
Shares of embattled drugmaker Valeant Pharmaceuticals International Inc. rose 16 percent, the most since 2011. Citigroup Global Markets credit analyst Murali Ganti said in a note to clients that investors' concerns over the company's pricing practices and business model were "overdone."
UnitedHealth posted its biggest drop since 2011, sparking a selloff among health insurers after announcing it's scaling back marketing efforts for plans it's selling this year under the Affordable Care Act, and may quit the business entirely in 2017 because of high costs. The company also cut its 2015 earnings forecast. Hospital operators Tenet Healthcare Corp. and HCA Holdings Inc. fell more than 6.9 percent.
Pfizer Retreats
Pfizer Inc. and Allergan Plc. declined at least 2.8 percent amid plans by the U.S. Treasury Department to deter companies from doing deals to move their headquarters abroad for tax purposes. People familiar with the matter said Pfizer is in advanced talks to buy the Ireland-based drugmaker for as much as the $380 a share, or $150 billion, a deal that would be the largest ever for the drug industry.
Energy companies in the benchmark sank 1.3 percent, nearly erasing a 1.6 percent rally yesterday as the group continued to swing with seesawing crude prices. Oil slid to its lowest in almost three months amid signs of ample supplies, and labored to hold above $40 a barrel. Chevron Corp. declined 1.5 percent. Chesapeake Energy Corp. dropped 10 percent to a 13-year low, while Southwestern Energy Co. and Consol Energy Inc. lost more than 5.6 percent.
Six S&P 500 companies, including Gap Inc., release quarterly results today. The earnings season is drawing to a close, with 95 percent of companies in the benchmark having reported. Of those, 74 percent beat earnings estimates, while 44 percent exceeded sales forecasts. Analysts project profits for index members dropped 3.7 percent in the third quarter, compared with for a 7.2 percent decline at the start of the season.
Before it's here, it's on the Bloomberg Terminal.
LEARN MORE