business
Trudeau Embraces 'APECHottie' Tag to Boost Canada's Profile
By
Canadians used to talking about Trudeau's family history

New leader sets out ambitious agenda, wraps up global tour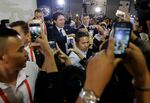 He was labeled a "hottie," mobbed by shrieking admirers and even saw his unoccupied chair draw a crowd of selfie snappers at an official dinner of 21 world leaders. Canadian Prime Minister Justin Trudeau welcomes it all, saying it gives him a chance to talk about his country.
Trudeau wrapped up his first global trip as leader on Thursday with the conclusion of the Asia-Pacific Economic Cooperation summit in Manila. He entered and left his final press conference to a crush of screaming people outside the briefing room, with the noise drowning out the first part of his speech.
Despite occasional missteps on the trip, he was a top draw in the Philippines, where a Twitter hashtag -- #APEChottie -- sprung up to ask readers to decide if Trudeau or Mexico's Enrique Pena Nieto was the better-looking leader. Prior to the Manila meeting, Trudeau was in the spotlight at the Group of 20 summit in Turkey, surrounded for selfies at his first appearance and later praised by China's president for his family legacy. He shrugged it off when asked, twice, on Thursday about the fanfare.
"I'm pleased that Canada's getting a little bit more attention right now because it gives us the opportunity to highlight the issues that are important to us," Trudeau said at the briefing that foreign press lined up for two hours to attend.
'Old Hat'


"By the time I became Prime Minister in Canada it was sort of old hat for people" to talk about his lineage, he said. "This is fresh on the world stage. We'll take some interest right now and turn that into the substance of what we're talking about."
The themes of the summits overlapped with Trudeau's domestic agenda -- infrastructure investment, "inclusive" economic growth and action on climate change. All were hallmarks of his election campaign.
Trudeau, the 43-year-old son of the late former Prime Minister Pierre Trudeau, took power on Nov. 4 after a decisive victory in Canada's October election.
Trudeau has an ambitious foreign policy agenda, pledging new action at the upcoming Paris climate summit, abandoning tentative plans for Canada to buy F-35 fighters from and removing Canada's jets from the bombing campaign against Islamic State militants.
U.S. Ties
He has put a premium on rebuilding ties with the U.S. and held his first bilateral meeting on Thursday with President Barack Obama. He's tasked his trade minister with boosting trade with China and India, and held talks with Chinese President Xi Jinping in Turkey.
Trudeau's first trip had him on a learning curve. He twice mispronounced the last name of Mexico's president, brushing off the second error by joking he refers to him only as Enrique. He accidentally praised China in his first bilateral meeting with Japan, correcting himself immediately, and remarked Thursday that Obama was "so young and yet so cynical," after Obama joked that Trudeau should start to dye his hair now before the office starts taking a toll on him.
Trudeau was asked later Thursday about the Obama comment, a question that led his ministers of trade and foreign affairs, sitting in front of him, to scoff. "It's a joke and some people find them funny sometimes. I need to learn to leave them to the comedians sometimes," Trudeau said. He declined to repeat the answer in the other of Canada's two official languages, French, as he typically does.
Park, Renzi
His fellow leaders were nonetheless effusive in their praise. South Korean President Geun Hye Park noted Trudeau's father's legacy in building ties with Asia and his stance on environmental issues. "We truly read each other's minds, on climate and development assistance for example," Park said at their APEC bilateral meeting. Italian Prime Minister Matteo Renzi at the G-20 meeting praised Trudeau's campaign as a "great model"for others.
Obama cited the "incredible excitement that Justin generated with his campaign" as the two announced a tentative visit to the White House, perhaps next year. "I'm sure Michelle's going to want to visit with Canada's new first lady," Obama said. Trudeau agreed, saying his wife, Sophie Gregoire-Trudeau, has started a garden in their backyard and would want advice from Michelle Obama.
To-Do List
Trudeau faces a long to-do list on his return to Canada, including convening provincial leaders to discuss emissions targets, recalling parliament to cut middle class taxes while raising them on high earners, and welcoming 25,000 Syrian refugees by Dec. 31, a plan he hasn't yet detailed. Later this month he's due to travel to meet Queen Elizabeth, attend a Commonwealth conference and then the Paris climate summit, which he and Obama have said is a priority.
If the G-20 and APEC are any indication, more fanfare awaits.
"I wouldn't be able to handle every single month, four summits a month," Trudeau said at his Manila briefing. "Because we wouldn't get anything done at home."
Before it's here, it's on the Bloomberg Terminal.
LEARN MORE