Thyssenkrupp Rises to 3-Month High as Cost Cuts Boost Profit
by
Company ``still some way from mininum requirement,'' CEO says

Steel price to weigh on profit forecast if stays low: CFO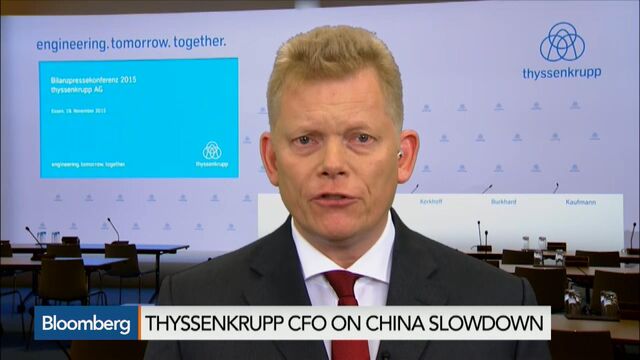 Thyssenkrupp AG's shares rose to a three-month high after the German steel producer proposed raising its dividend and reported higher full-year profit after cutting costs.
The management and supervisory boards recommended a dividend of 15 euro cents ($0.16) a share from 11 cents a year earlier, the Essen-based company said Thursday in a statement. It reduced costs by 1.1 billion euros, beating its target of 850 million euros, and reported a positive free cash flow before divestments for the first time in nine years.
Chief Executive Officer Heinrich Hiesinger, an outsider who took the role in 2011 to clean up the company that had been roiled by a bribery scandal and a failed expansion in the Americas, is trying to turn the steelmaker into a more diversified industrial group. He wants adjusted earnings before interest and taxes to grow to at least 2 billion euros a year to help cut debt, pay dividends and regain an investment-grade credit rating. The group, which traces its roots to 1811, gets almost half its profit from its elevator unit.
The dividend yield "is moving in the right direction," Seth Rosenfeld, an analyst at Jefferies International Ltd. in London, wrote in a report. "We expect further growth in the years to come as free cash flow turns more solidly positive."
Shares Rise
Thyssenkrupp rose 2.6 percent to close at 19.65 euros in Frankfurt, the highest since Aug. 20. The stock has fallen 7.6 percent this year, valuing the company at about 11.1 billion euros.
Adjusted Ebit rose 26 percent to 1.68 billion euros in the 12 months through September, in line with the company's forecast. Thyssenkrupp said profit this fiscal year will be 1.6 billion euros to 1.9 billion euros, and at the low end of the range if low steel prices persist, Chief Financial Officer Guido Kerkhoff told reporters in Essen. There's no need for a capital increase, he said in an interview with Bloomberg Television Thursday.
The company's proposed dividend compares with a Bloomberg Dividend Forecasts estimate of 25 euro cents. While not satisfactory in the medium term, it's "a step in the right direction, which also takes into account our balance-sheet needs," Hiesinger said in the statement. The company is robust enough "to withstand a a possible economic headwind" while not stable enough to give a mid- or long-term dividend policy yet, he told reporters. "We are still some way from our minimum requirement and goals."
Dividend Reaction
The dividend is a "clear disappointment" and shows the management is uncertain about the profit situation this year, Hans-Peter Wodniok, an analyst at Fairesearch GmbH & Co. KG who had estimated 30 cents a share, said by phone from Kronberg, near Frankfurt.
In contrast, Christian Obst, an analyst at Baader-Helvea Equity Research, said the proposal was reasonable and possibly even too high.
Thyssenkrupp reported free cash flow before divestments, a measure of operating cash flow minus capital expenditure, of 65 million euros compared with a negative 357 million euros a year earlier. It achieved its target reiterated in August to at least break even.
The Steel Americas unit was the only division to report an adjusted loss before interest and taxes, about doubling from a year earlier to 138 million euros.
'Good Performance'
"Steel Europe's performance was good," Joerg Schneider, a fund manager at Union Investment, which holds Thyssenkrupp shares, said by phone from Frankfurt. He said all the company's figures were "decent."
To boost profit, Thyssenkrupp plans to reduce costs by 850 million euros this year as "growing economic uncertainties and high import pressure on materials markets, above all from Asia, are a cause for concern," according to the company.
ArcelorMittal, the world's biggest steelmaker, on Nov. 6 cut its full-year profit target and suspended its dividend, blaming the flood of cheap steel from China's loss-making mills that has pushed down prices and hurt producers' earnings.
Before it's here, it's on the Bloomberg Terminal.
LEARN MORE