Chocolate in a Pill: All of the Benefits, None of the Fun
By
Candy makers say cocoa flavanols improve blood circulation

`Supplements appeal to humans' sense of control' over health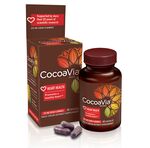 It's an idea Willy Wonka's evil twin might have dreamed up: Chocolate that's healthy, calorie-free, and no fun at all. Behold, the chocolate pill.
Candy-makers are pumping up production of nutritional supplements with flavanols, a cocoa extract said to improve blood circulation. Barry Callebaut AG, the world's No. 1 maker of bulk chocolate, is planning flavanol pills that have been approved by European health authorities as a supplement that's beneficial to the heart, and Mondelez International Inc. is researching the benefits of flavanols for potential future products. 
They join Mars Inc., which is considering European sales of a range of flavanol capsules and powders and may seek approval from regulators there. Mars's offering, a supplement called CocoaVia, has been available in the U.S. since 2010, and a handful of smaller companies have introduced similar products in recent years. In May, Mars announced a five-year study with Harvard University researchers to quantify the health benefits of flavanols.
Callebaut, which supplies Unilever with chocolate for its Magnum ice cream, says it will team up with French nutrition supplement maker Naturex SA, which it will supply with cocoa beans to make and sell an extract of flavanols -- antioxidants found in the cocoa plant. The extract will start reaching retailers sometime next year, and while Callebaut and its partners haven't yet released pricing data, Mars' CocoaVia costs $45 for 90 pills -- a 30-day supply.
"The science is already done, so getting it to the market should go fast, provided customers are willing to go fast," said Olivier Rigaud, chief executive officer of Naturex. "There's no need for further scientific testing or clinical studies."
Naturex rose as much as 3.6 percent in Paris while Barry Callebaut gained as much as 2.4 percent in Zurich.

The flavanol extracts will enter a dietary supplement market that has grown 23 percent, to $51 billion, in the past five years, according to Euromonitor. Scientists, though, caution that buyers shouldn't count on such products to really improve their health, and the U.S. Justice Department has just charged more than 100 makers of nutritional products with fraud in the sale and marketing of dietary supplements.
"Supplements appeal to humans' sense of control over their own health and hard-wired magical thinking that they might do some good," said Marion Nestle, a nutrition professor at New York University. "This has nothing to do with science. If anything, the science shows that supplements have powerful placebo effects."
In April, Callebaut became the first chocolate company to win European Commission approval for claims of health benefits from flavanol extracts. EU food safety officials said 200 milligrams of cocoa flavanols daily enhances circulation by supporting the elasticity of blood vessels. 
Four Candy Bars
Problem is, getting 200 milligrams of flavanols would require eating about two dark chocolate bars, with roughly 350 calories and 20 grams of fat, or more than four bars of milk chocolate -- about 900 calories and 50 grams of fat, according to Mars, the maker of M&Ms candies. Or, Mars says, for about $1.50 they can get 375 grams of flavanols from CocoaVia capsules, with 10 calories and no fat.
Mars hasn't received any regulatory approval for CocoaVia capsules and powders, which come in either cran-raspberry or dark chocolate flavor to be mixed into drinks. The company's website claims that taken daily, the cocoa flavanols in the supplements promote a healthy heart by improving blood flow. But there's an asterisk that says the statements haven't been evaluated by the U.S. Food and Drug Administration and that CocoaVia isn't intended to treat or prevent disease. Nonetheless, Mars says sales of the products have tripled over the past year.
Some confectioners say they have little interest in taking the enjoyment out of chocolate. Lindt & Spruengli AG, the maker of Lindor chocolate balls, said it isn't considering cocoa supplements at this time because it wants to keep focusing on indulgence. Nestle SA says it's researching the health benefits of flavanols but has no current plans to include them in its products.
Lauren Bandy, a nutrition analyst at Euromonitor, says the supplements have a better chance of gaining traction with older buyers, as younger people don't worry too much about heart ailments.
Flavanol "is far from some kind of magic bullet solution to heart disease that some imply," Bandy said. "If you take the chocolate out of cocoa, it's not very attractive."