Not Enough Cooks: Restaurant Industry Faces Talent Crisis
The restaurant industry is in a talent crisis. Its solution: company-sponsored yoga.
By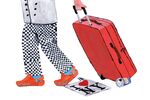 Joe Kindred's cooking career has taken him through top kitchens in San Francisco and Chicago, but when he decided to open a place of his own, the chef passed up big-city fame to return to his sleepy hometown of Davidson, N.C., a suburb of Charlotte. His restaurant, called Kindred, has become a critical darling (one of the best new restaurants in the U.S. this year, according to Bon Appétit) and an instant local hit. As much as that success draws from the restaurant's stunning historical location and its use of local ingredients, Kindred says, it really comes down to the quality of the kitchen staff—and his ability to hang on to them.

For the past several years, restaurant owners have been facing a major shortage of good cooks. The problem is especially pronounced in New York and San Francisco, where the high cost of living has young culinary professionals fleeing to more affordable locales. The growing number of ambitious restaurants outside traditional hubs has spread the deficit nationwide. Fine-dining restaurants are a low-margin business, so rather than try to compete on wages, employers have had to come up with more creative ways to make their cooks stay.
"I've closed the restaurant for lunch in order to take the team out back and play dodgeball, when I can tell they really need it," Kindred says. He and his wife, Katy, who's a partner in the restaurant, also established the Big F---ing Cookie Award, given with great fanfare each week to a staff member who's gone above and beyond the call of hospitality. "We have 150 seats and everybody eating small plates, so there's no way a single chef can touch every single thing that leaves the kitchen," Katy says. "Whether or not your cooks care makes or breaks a person's dining experience."
The Kindreds' efforts may sound like small potatoes compared with the lavish perks offered by Silicon Valley startups (Zen meditation rooms; on-site gaming arcades). But a focus on job satisfaction represents a change for the hospitality industry, which traditionally has taken a hard-knocks approach to employment practices, as any casual viewer of Hell's Kitchen knows. Even benefits such as health insurance, 401(k)s, and paid time off—standard stuff for your average office worker—are still far from universal in the restaurant world.
Now workers have the upper hand. A survey conducted this summer by Culinary Agents, a networking and job-matching site for the hospitality industry, showed that career development was of particular concern to kitchen and dining room staff considering potential employers. To keep his up-and-coming cooks happy, Tom Colicchio's Crafted Hospitality group has instituted such programs as the Sous Chef Supper series, where they can introduce original dishes to the public. Others are making it easier for their cooks to stay healthy: Chef Tony Maws of Craigie on Main in Cambridge, Mass., offers company-sponsored yoga classes for employees. At SPQR in San Francisco, executive chef Matthew Accarrino has led his kitchen staff on bike rides up to Napa Valley to visit the restaurant's partnering farm.
What it all boils down to is fairly simple, says Adrian Giovanelli, executive chef of Roaring Fork restaurant in Austin. "The crazy yelling, screaming, and shouting doesn't resonate with this generation," he says. "You can't be a tyrant anymore."
Before it's here, it's on the Bloomberg Terminal.
LEARN MORE