business
Norfolk Southern Investors Can Win Even If a Deal Isn't Reached
By
Railroad signals little interest in Canadian Pacific offer

Rival CSX is boosting profit after it rejected similar CP bid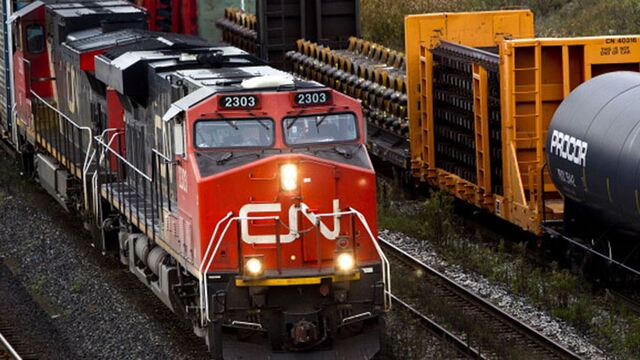 Norfolk Southern Corp.'s investors can win even if Canadian Pacific Railway Ltd.'s $28 billion takeover offer fails.
"While I see the probability of a deal as extremely unlikely, I do see a reinvigorated Norfolk Southern management team as working to the benefit of its shareholders as hard, if not harder, than it ever has," said Matt Troy, an analyst at Nomura Securities International.
Norfolk Southern, the second-largest railroad in the eastern U.S., signaled it was inclined to reject the bid, calling it "low-premium, non-binding and highly conditional." Yet the offer could stoke shareholder impatience with Norfolk Southern's industry-worst operating efficiency and its slow reaction to offset cargo declines by cutting costs, Troy said.
Canadian Pacific made its offer public on Wednesday, a cash-and-stock bid of $94.02 a share based on Friday's closing price. Chief Executive Officer Hunter Harrison is expected to make his pitch to analysts on Thursday. Norfolk Southern shares rose 4.7 percent to $96.85 at the close Thursday in New York, after Harrison expressed confidence that the two sides will come to an agreement.

CSX, the largest railroad in the eastern U.S., made a quick turnaround after management rejected a merger offer from Harrison late last year. CSX shortly after furloughed workers and reduced other costs, paving the way for higher earnings. Analysts on average estimate CSX's per-share profit will increase 4 percent this year, while Norfolk Southern's will decline 17 percent, according to data compiled by Bloomberg.
"We would point to CP's overtures to CSX last fall, which were swiftly followed by headcount reductions," said Bascome Majors, an analyst at Susquehanna International Group. "Fast forward to today, and CSX is tracking as the only one of the U.S. railroads that's going to deliver earnings growth this year."
Norfolk Southern lags behind other railroads in cutting costs. Employment in October fell for all the major U.S. rails except Norfolk Southern, which posted a 3 percent gain from a year earlier, according to the Surface Transportation Board.
Norfolk Southern's average train speed was better only than that of CSX in the third quarter. And its operating ratio -- an efficiency measure dividing operating expenses by revenue in which a lower number is better -- was worst among large railroads. Norfolk Southern's figure was about 70 percent in the quarter, almost 14 percentage points higher than Canadian Pacific's. Canadian National Railway Co. was best at 54 percent.
Harrison has a reputation of improving the railroads he runs, including Canadian National and Illinois Central Corp. He was coaxed out of retirement in 2012 to run Canadian Pacific after Bill Ackman's Pershing Square Capital Management LP became the carrier's largest shareholder and pushed to oust CEO Fred Green. Canadian Pacific, which had long been North America's least-efficient railroad, had an operating ratio of 83 percent in 2012. It is now about 56 percent.
"Hunter Harrison has delivered dramatic margin improvements at three separate railroad properties," Majors said. "Our sense is a fresh set of eyes could probably drive favorable margin outcomes in many parts of the Norfolk Southern network."
It's up to Norfolk Southern CEO Jim Squires, a lawyer trained at the University of Chicago who took his post in June, to defend the railroad's strategy. Squires, who joined the railroad in 1992 and was chief financial officer, met with Harrison last Friday to discuss the merger offer.
Tax Advantages
Harrison is promising more than $1.8 billion in annual operating savings achieved over the next several years and "substantial" tax advantages. The combination would create a "transcontinental rail network connecting the major industrial production and population centers across North America," Harrison said in a letter to Squires.
For railroads east of the Mississippi River, it's much harder to obtain the level of efficiency at Canadian carriers, which run over long distances and through sparsely populated areas. Eastern railroads operate in a crowded region that slows speed and requires circuitous routes.
Norfolk Southern, like CSX, is struggling with reduced coal exports and lower shipments of Appalachian coal, which has come under environmental scrutiny because it's dirtier than resources from the Powder River Basin in the western U.S. If not for the declines, margins at the eastern U.S. railroads would be as much as 6 percentage points better, said Troy, of Nomura Securities.
No 'Layup'
"It is not a layup" to improve efficiency at Norfolk Southern, he said. "It would be a much tougher row to hoe than a Canadian railroad."
Norfolk Southern said it is evaluating Canadian Pacific's merger proposal while it reviews "opportunities to enhance stockholder value through strategic, financial and operational measures." The stock will benefit whether a deal is done or those steps help improve operations, Troy said.
"This is a win-win for shareholders," he said. Investors "over time would expect them to take accelerated actions to close the gap in margins versus their peers."
(
Updates with closing stock price in fourth paragraph.
)
Before it's here, it's on the Bloomberg Terminal.
LEARN MORE