More Terrorism `Likely' in Europe, Police Agency Director Says
by
Islamic State can project terror into Europe, official says

Paris probe pursuing several leads uncovered by Europol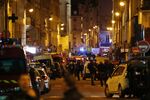 Islamic State has built a "serious capability" to inflict terror and is bent on staging more attacks in Europe, possibly at several places simultaneously, the head of Europol said.
After the Paris atrocities, it is reasonable to assume "without any recourse to exaggeration, that further attacks are likely," Rob Wainwright, director of the European Union's crime-fighting agency, said on Thursday in Brussels.
He called Paris the first European instance of shootings and suicide bombings at several venues, similar to the four-day Mumbai rampage of 2008 at sites including a luxury hotel and Jewish community center.
French investigators into last Friday's killings are pursuing "a number of leads" uncovered by Europol, Wainwright said. He said it is not yet clear whether one of the Paris operatives snuck into Europe posing as a Syrian war refugee.
Speaking to the European Parliament's civil liberties committee, Wainwright called for better intelligence-sharing between crime- and terrorism-fighting agencies, noting links between Islamic State and the organized underworld.
Disclosing what is "probably secret" at the same hearing, Christian Braun, Luxembourg's EU ambassador, said heads of national spy agencies have held meetings in Brussels to coordinate anti-terrorism steps.
"These contacts exist" but spy chiefs don't seek the limelight, Braun said.
Before it's here, it's on the Bloomberg Terminal.
LEARN MORE