Lions Gate Braces for Life After Hunger Games
Katniss can't go on forever.
By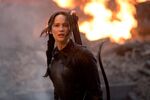 Lions Gate Entertainment, the largest independent U.S. movie studio, made its name adapting young adult novels into films, including the vampire romance series Twilight and the Divergent sci-fi movies. Now, with the fourth and final installment of its Hunger Games series opening on Nov. 20 in North America, the studio finds itself without an obvious replacement at a time when multifilm franchises have never been more important to Hollywood. "It's kind of an end of an era," says Jeff Bock, senior box-office analyst with industry researcher Exhibitor Relations. "There really isn't a next-in-line yet."
Investors got a taste of that uncertainty on Nov. 9, when Lions Gate reported a surprise loss after its Vin Diesel movie, The Last Witch Hunter, bombed in theaters and forced it to quickly write down the clunker. The next day two companies in cable billionaire John Malone's empire, Liberty Global and Discovery Communications, agreed to buy 6.8 percent of the studio. That added to the speculation that Lions Gate—which has a growing television business, producing shows such as ABC's Nashville and Netflix's Orange Is the New Black—could find itself at the core of a media content consolidation by Malone.

The studio is trying hard to hang on to its franchise strategy, which allows subsequent movies to open with a built-in fan base. The third Divergent film will open in March, and a fourth is planned. Almost half of Lions Gate's release schedule over the next few years is sequels or potential franchise films, including Part 2 of the magician thriller Now You See Me and a second John Wick, an action feature with Keanu Reeves. The studio is making the fantasy film Gods of Egypt and has a Power Rangers picture on tap, based on the 1990s TV series. Lions Gate has also acquired the rights to Chaos Walking, another dystopian book series that's won a number of children's book awards in the U.K. All three seem candidates for sequels.
Yet none of the studio's future efforts looks set to equal the Hunger Games films, which have generated $2.3 billion in theaters worldwide, according to researcher Box Office Mojo. "They've made a lot of money from the Hunger Games franchise, but that profit largely comes to an end next year," says Doug Creutz, a Cowen analyst. To make matters worse, "there are only more competitors trying to do the same as Lions Gate."
Other studios that have piled onto the young adult bus have had mixed results. 20th Century Fox had a hit with its 2014 film The Maze Runner—yet another young adult book-turned-movie about teenagers in peril in a dark futuristic world. The film grossed $348 million globally, and a second installment in September brought in almost $310 million, according to Box Office Mojo. A third in the series is planned for 2017. But Fox's Me and Earl and the Dying Girl failed to deliver results like last year's low-budget hit The Fault in Our Stars, taking in only $9 million worldwide this summer. Warner Bros.' Beautiful Creatures in 2013 didn't cover its $60 million production budget. In January, Sony will release The 5th Wave, born of another young adult sci-fi book trilogy.
Industry consultant Russell Schwartz, co-principal at Pandemic Marketing and a former marketing executive at New Line Cinema who worked on the Lord of the Rings trilogy, says studios are finding it harder to grab the attention of younger viewers. "This audience is getting more discerning," Schwartz says. "They are just not running after everything. It's not as dependable an audience anymore."
But analysts say Lions Gate has benefited from acquiring strong source material to turn into movies. "Management believes that Lions Gate is still the first destination for authors with new storylines," says Eric Wold, an analyst at B. Riley. "And we believe that as long as there are young adults seeing movies, there will be an audience for young adult films."
Lions Gate's new Hunger Games film, Mockingjay Part 2, is expected to pull in $320 million in North American revenue for its full theatrical release, the least of all the films in the series, estimates BoxOffice.com. One possible problem this time around: high public interest in Walt Disney's new Star Wars film, The Force Awakens, which opens a month later.
On a Nov. 10 analysts call, Chief Executive Officer Jon Feltheimer trimmed his long-term profit outlook for Lions Gate, citing the disappointing performance of its recent films and pushed-back release dates for future movies. The company now forecasts $1.1 billion to $1.2 billion in earnings before interest, taxes, depreciation, and amortization from 2015 through 2017—down about $100 million from earlier projections.
That's hardly a disaster, says B. Riley's Wold. Besides, he says, the company likely isn't done with the characters that attracted young moviegoers to the tale of a future where teens fight to the death on national television, pitting survival against love. Feltheimer hinted as much earlier this year during an analysts call. "It's pretty clear there is a prequel of The Hunger Games on the horizon," Wold says, "and I think if that gets confirmed and announced, then a lot of people's concerns about this cliff change pretty quickly." The company declined to make executives available for interviews.
Lions Gate is also trying to extend the life of The Hunger Games by licensing the name for theme park attractions in Dubai, Atlanta, and China—an opportunity the company sees adding as much as $100 million in profit over the long term. But some analysts have doubts. Says Cowen's Creutz: "It's hard to imagine a Hunger Games theme park as a fun destination."
The bottom line: The Hunger Games films have $2.3 billion in ticket sales—so far. But as the series ends, studio Lions Gate's next move is uncertain.
Before it's here, it's on the Bloomberg Terminal.
LEARN MORE