pursuits
Jewish Settlement Winemakers Buck Opposition from European Union
By
Europeans target Jewish products made in Palestinian lands

Kosher Jews will still buy but market expansion may not happen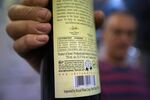 When the European Union demanded this month that products from Israeli settlements in the West Bank be labeled as such, the goal was to urge European consumers to shun goods from occupied Palestinian lands.
But apart from angering Israelis who feel their country has been singled out unfairly, the economic impact is likely to be minimal.  David Simha, president of the Israeli-Palestinian Chamber of Commerce and Industry, estimates that settlement products comprise 0.1 percent of total Israeli exports. Winemakers in the settlements, a growing cottage industry, say the vast majority of their clients are kosher Jews who will rally more behind the products.
"For the kosher market, not only will the labels not damage us, but they could even help us," said Elyashiv Drori, chief winemaker of Gvaot, deep in the West Bank which sells 50,000 bottles a year. "I believe that the kosher consumer is very Zionist. If he sees a settlement product, he may actually support us even more."
Political goal
Still, a primary goal of the labeling is political -- to express the EU's disapproval of settlements and support for the Palestinians. And that is being felt. Mohammed Al-Arqawi, deputy general secretary of the General Union of Palestine Workers, said he welcomed the "measures aimed at holding Israel accountable for its illegal settlements and other war crimes."
Within Israel, the move has caused an uproar, with many calling the decision hypocritical and anti-Semitic. While Israel remains defiant in the face of the move, it is clear that efforts to isolate it cut deeply in a society that has long struggled for international acceptance.
"For Israelis, this is a clash between how they see themselves and how the world sees them," said Yael Berda, who teaches sociology at the Hebrew University of Jerusalem. "When the attacks in France happened this weekend, for instance, many Israelis said, 'We are dealing with the same thing here.' But decisions such as the labeling of West Bank products make it clear that European leaders don't see it that way."
As part of their rejection of the EU order which requires the products to be labeled "made in settlements," the Israelis argue that the greatest harm will fall to those it is aimed at helping -- Palestinians.
Palestinian Jobs
Yossi Ben Sheetrit, chairman of the Manufacturers Association in the Mishor Adumim industrial zone inside the West Bank, said that if the campaign forces Israeli factories to downsize or close, the result will be Palestinian unemployment because 3,600 Palestinian are employed by 380 plants there.
"Does Europe want to build factories here to employ them?" he asked rhetorically. "Our factories can move into others parts of Israel. But the Palestinians will lose their jobs."
Manufacturing in the West Bank has struggled partly due to pressure from pro-Palestinian groups. Some large companies, such as SodaStream International Ltd. and Unilever NV, have shuttered their operations there in recent years after being targeted by activists.
On the other hand, the kosher wine industry only hires Jews (a religious requirement of kosher wine) and has blossomed thanks to the West Bank's hilly terrain, chalky soil and grape-friendly climate. Dozens of wineries have sprouted there in the past decade and several have gained fame for exceptional vintages, despite the political controversy, including recognition in France and Italy. In fact, while most have built a market among kosher consumers, strong reviews and international awards had allowed them to start expanding into the mainstream European market. The labeling decision undermines those efforts, winemakers say.
Expanding Market
"We would like to break away from our niche market and get into the regular market in Europe," Drori acknowledged, his back wall lined with wine awards . "I definitely worry that this unjust decision could damage our reputation."
However, since settlers are used to bucking antagonism, the winemakers remain largely unmoved by the European decision.
Vered Ben Saadon, owner of the Tura winery in the settlement of Rehelim, acknowledged that the labeling, which she called an anti-Semitic boycott, would make it harder to penetrate the European markets beyond the kosher consumers. But she said she would target Asian markets -- China is a growing market for wine -- where Israel is not a controversial topic and continue to appeal to supporters of Israel.
"Every time there is a call to boycott Israel we get more orders from Evangelical Christians and Jewish customers," she says. "There are also markets in Asia that we want to grow in. We Jews have learned the hard way that there are few problems for which we can't figure out some solution."
Before it's here, it's on the Bloomberg Terminal.
LEARN MORE