How Pepsi Got Its Very Own Empire Story Arc
An exclusive look at the brand's latest product placement.
By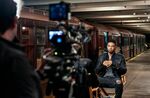 The biggest guest star to appear on the second season of Fox's hit hip-hop drama, Empire, isn't an actor, a musician, or even a politician doing a cameo. It's a cola.

Nov. 18 marked the beginning of a three-episode storyline for Pepsi, the brand and the beverage. In the first episode, Jamal Lyon, middle son of fictional entertainment mogul Lucious Lyon, is trying to shore up his status as a full-blown pop star and takes a meeting with Pepsi executives to discuss becoming the face of the brand; he generates a fresh new track (created in real life by producer Swizz Beatz) to impress the team; Pepsi loves it. In the second episode, Jamal films his Pepsi commercial, which is directed by Lee Daniels, the Oscar-nominee behind Precious, The Butler, and—oh, yeah—Empire.
The narrative culminates with the debut of Jamal's Pepsi commercial on Dec. 2, right before Empire goes on a three-month hiatus. On the show, the spot will air at a press conference; when the ad is shown to the assembled characters, Fox will go to commercial—and show the same ad in reality. "You have a real brand anointing a fictional artist in a commercial directed by the creator of the series appearing as himself," says Steven Melnick, a senior vice president for 20th Century Fox Television, the studio that makes Empire. "It's very meta."
It's also an accurate portrayal of what counts for making it in the pop world. "There are three things that happen where you know you're on your way," Jussie Smollett, the 32-year-old actor who plays Jamal, says during a break from filming the climactic spot. "Having a No. 1 album. Winning a Grammy. Doing a Pepsi commercial." Over the years, everyone including Michael Jackson, Madonna, and Beyoncé has starred in a Pepsi ad. That authenticity, he says, is crucial. "There's no Pepsi placed perfectly right there as I'm doing a dramatic scene. It's not corny."
Product tie-ins have been around since the dawn of television. But these days the bar for what's effective is high. "As viewers get more sophisticated at screening out ads, marketers need to get much more creative in how they link to content," says Allen Adamson, the founder of BrandSimple Consulting. More often, that means bespoke storylines. In 2010 the ABC sitcom Modern Family aired an episode that revolved around a character getting an iPad. Three episodes, though, is something else.

Empire's writers came up with the idea of Jamal's cola coronation and then approached Pepsi, executives say. The brand won't reveal how much it's paying Fox, but traditional 30-second ad slots—which generally cost far less than a deeply entwined brand integration—are going for about $500,000 this season, according to Advertising Age. Pepsi put $149 million into U.S. advertising alone last year, research firm Kantar Media says.
On a Monday afternoon in early November, Pepsi and Empire producers gather at the decommissioned subway station that's home to the New York Transit Museum to shoot the commercial. Smollett, as Jamal, steps onto an erstwhile subway car populated with commuters. A guy looks up, recognizes Jamal, and tosses him a Pepsi. Jamal takes a swig and smiles. Swizz Beatz's beats kick in. Suddenly, everyone's dancing. From nearby, Daniels fine-tunes the joyous gyrations.

Farther down the platform, Pepsi marketers watch the scene on a pair of monitors, passing notes to Daniels. Not surprisingly, they seem to want Jamal to linger a bit longer on the transformative sip of soda. To ensure the ad enjoys a life beyond Empire, they stage a couple of takes with Smollett as himself, a rising TV actor, rather than as Jamal Lyon, the rising fictional pop star.
Regardless of the commercial's future, Smollett is excited for his character. He says Jamal—who proudly came out as gay during the first season, despite his father's objections—is the perfect ambassador for Pepsi's hip, young, culturally inclusive brand. Besides, pretty much every other character on the show is an emotional lava fountain. "None of the other Lyon family members would be able to do it," Smollett says. "Pepsi isn't going to endorse their crazy selves."
Before it's here, it's on the Bloomberg Terminal.
LEARN MORE