How 10,000 Syrian Refugees Got Caught Up in U.S. Partisan Fight
by , , and
Obama screening plan opposed by Republicans after Paris attack

Terrorists might hide among displaced people, opponents say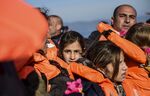 The plight of Syrian refugees seeking entry to the U.S. erupted into a political controversy after last week's attacks in Paris stoked concerns that terrorists might hide among people fleeing from war.
The House passed a measure Thursday that would put the resettlement program on hold. Thirty-one governors -- all but one of them Republican -- have raised their own objections. And in the 2016 presidential campaign, some Republicans are saying the U.S. should take Christian refugees but exclude Muslims.
President Barack Obama has stood by his plan to take in 10,000 Syrian refugees this fiscal year. The U.S. received 1,682 last year. A Bloomberg Politics national poll shows that most Americans want it to stop. Fifty-three percent of U.S. adults don't want to let in more Syrian refugees because of the fear of terrorist infiltrators, according to the survey released Wednesday.
The poll, conducted in the days after the Paris attacks, showed that just 28 percent would keep the existing resettlement program. Eleven percent favored a limited program that accepts only Syrian Christians while excluding Muslims.
French President Francois Hollande, days after the attacks that killed 129 people in his capital, said his country will honor its commitment to accept 30,000 refugees over the next two years after vigorous security checks.
In the U.S., here is where the refugee debate stands:

House Vote
By an overwhelming 289-137 vote, the House ignored a White House veto threat Thursday in passing a bill to sharply tighten screenings for refugees from Syria and Iraq seeking to enter the U.S. The measure would let such refugees enter only if four top U.S. law-enforcement and national security officials -- including the Federal Bureau of Investigation director and secretary of Homeland Security -- affirm to Congress that the individuals aren't a security threat.
House Speaker Paul Ryan, a Wisconsin Republican, called the bill a "first step" among other actions lawmakers will take to strengthen security in response to the Paris attacks. He said the plan would block entries by at least six months to allow time to revise security measures.
Lawmakers could use a must-pass government spending bill due by Dec. 11 to make other changes, Ryan said. Some Republicans have backed defunding the entry of Syrian and Iraqi refugees altogether. Thursday's House vote, with 47 Democrats supporting the Republican bill, reflects a veto-proof majority. But Democratic leader Nancy Pelosi of California said that if the bill reached Obama's desk and he vetoed it, she was confident that "we would sustain a presidential veto."
Senate Majority Leader
Almost a week after the Paris attacks, Senate Majority Leader Mitch McConnell hasn't said what measures his chamber will consider to boost security in the U.S. McConnell, a Kentucky Republican, said he supports a "pause" on the refugee program to ensure the proper safety policies are in place, though he hasn't said if the Senate will take up the House bill when Congress returns Nov. 30 from a Thanksgiving break. Some lawmakers of both parties say a bigger worry is a program that allows visa-free entry to the U.S. for citizens of about three dozen countries, including much of Europe.
Democratic Senator Dianne Feinstein of California and Republican Jeff Flake of Arizona plan to introduce legislation that would bar people who have traveled to Iraq or Syria in the past five years from getting visa waivers. Republican Senator Rand Paul of Kentucky, a presidential candidate, held up consideration of a spending bill for transportation and housing Thursday by demanding a vote on an amendment to bar use of funds to help refugees from 34 countries, mostly in the Middle East and Africa.
Obama Defense
Obama dismissed as as "shameful" and un-American the calls by some Republican presidential contenders to allow only Syrian Christian refugees to enter the U.S. while excluding Muslims. Republicans harshly criticized the president's policies as too weak to keep Americans safe, while Obama said, "I cannot think of a more potent recruitment tool for ISIL than some of the rhetoric that's been coming out of here during the course of this debate.'' ISIL is an acronym for Islamic State.
The White House said Obama would veto the House bill to tighten screenings for Syrian and Iraqi refugees. The administration says the current screening process is already strong and is trying to persuade lawmakers and the public that it can keep terrorists from mixing with incoming refugees. Attorney General Loretta Lynch said the House measure is an "impractical response" and that requiring the FBI director to make a personal guarantee that individual refugees don't pose a threat "would essentially grind the program to a halt" without enhancing the nation's security.
Governors' Objections
Thirty-one governors, all Republicans except in New Hampshire, have called for action on Syrian refugees. Fourteen -- including Chris Christie of New Jersey, Greg Abbott of Texas and Scott Walker of Wisconsin -- said they would refuse to accept refugees, are instructing state agencies not to cooperate with resettlement efforts, or are suspending programs pending a review of federal screening procedures. Louisiana Governor Bobby Jindal and Georgia Governor Nathan Deal called for additional monitoring or review of Syrian refugees already in their states.

Twelve governors, including John Kasich of Ohio, Nikki Haley of South Carolina and Doug Ducey of Arizona, called on the Obama administration to stop accepting Syrians or not to send any to their states until screening is reviewed. Some Democratic governors, including Jay Inslee of Washington and John Hickenlooper of Colorado, said they will welcome Syrian refugees and work with the federal government to ensure they are vetted properly.
Before it's here, it's on the Bloomberg Terminal.
LEARN MORE