Google, Amazon Prep for Holidays With Express-Shipping Expansion
by and
Google's next-day delivery expands across Southern Calfornia

Amazon follows by bringing same-day service to San Diego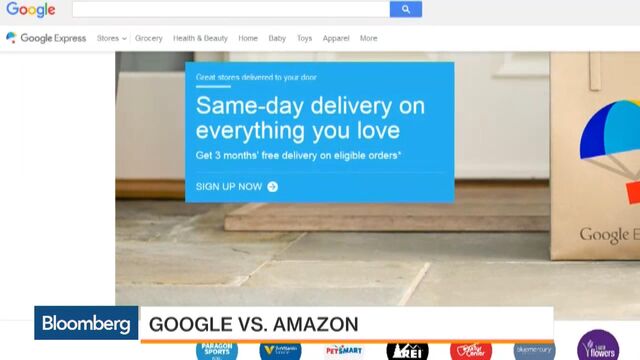 The fight for online shoppers is heating up in Southern California, with Google expanding next-day delivery and Amazon.com Inc. broadening its same-day service options as the holiday shopping season gets under way.
The Alphabet Inc. subsidiary on Thursday said it will offer next-day delivery for shoppers in locations throughout Southern California including Los Angeles, San Diego, Orange County, the Inland Empire, and other areas. Previously, the service operated in Northern California and West Los Angeles, along with Manhattan, Boston, Chicago, Washington, and in several states in the Midwest. Participating merchants include Costco, Target, Kohl's and Walgreens.
Hours after Google's announcement, Amazon said it was expanding its same-day Prime Now delivery service in the San Diego region. In addition to tens of thousands of goods in Amazon's Prime Now inventory, San Diego customers will be able to order goods from some local stores. Teaming up with local merchants helps Amazon boost its inventory without adding new storage locations in expensive urban areas.
Los Angeles, Orange, San Diego and Riverside counties are home to more than 18.8 million people -- almost half the population of the most populous state. Total U.S. e-commerce spending is expected to hit $95.5 billion in November and December, an 11 percent increase from a year earlier, according to Forrester Research Inc.
Google is chasing e-commerce leader Amazon, which offers free same-day delivery options in 24 metropolitan areas -- including Los Angeles and San Diego -- that altogether are home to almost one in four U.S. residents. Amazon can get some goods to customers in as little as an hour through its Prime Now service, unveiled last December, which makes shopping online comparable to a quick run to the store.
Google's membership, which costs $95 a year, mimics Amazon Prime, a $99-a-year subscription that gives members delivery discounts as well as Internet streaming of videos and music. Prime helps keep Amazon customers loyal, and they spend more than non-Prime buyers.
Amazon's success in Web retailing threatens Google's online-advertising business. As more shoppers skip search engines and begin their search for products directly on Amazon websites and smartphone applications, Google loses revenue.
Before it's here, it's on the Bloomberg Terminal.
LEARN MORE