Gasoline Most Expensive Over Oil as Refinery Profit Increases
by
Retail gas averages $1.13 per gallon more than Brent in 2015

Brent has dropped 23% this year, pump price has slipped 5%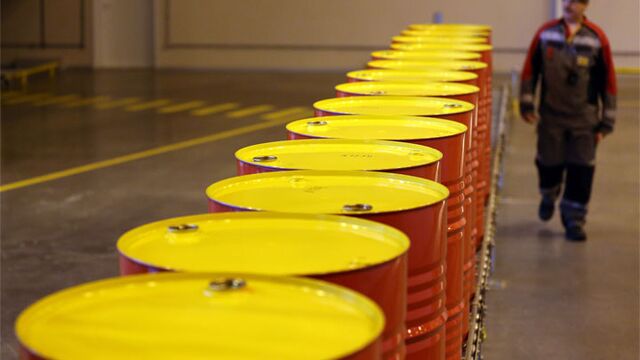 Gasoline at the pump hasn't been so expensive against its raw material, crude oil, since at least 2004.
Regular gasoline in the U.S. has averaged $1.13 a gallon more than Brent crude, the global benchmark, so far in 2015, according to data compiled by Bloomberg based on AAA prices and Brent futures. That's almost 20 cents a gallon higher than the average in the past 10 years.

Brent crude has slumped 23 percent this year after falling 48 percent in 2014 on concern a global glut will persist as the Organization of Petroleum Exporting Countries pumps above its collective target and U.S. production stays near a three-decade high. Retail gasoline has declined less than 5 percent in 2015. The price difference has helped boost earnings of refineries including Tesoro Corp and Valero Energy Corp.
Brent Prices
Gasoline demand in the U.S. averaged 9.24 million barrels a day in the four weeks ended Nov. 13, the highest seasonal level since 2007, according to the EIA. That's up from 9.06 million a year earlier. For all of 2015, demand is up more than 300,000 barrels a day.
"We are seeing very good demand on gasoline, and retail gasoline service station operators are making a lot of money," said Andy Lipow, president of Lipow Oil Associates LLC, an energy consulting firm in Houston. "Gasoline demand next year is going to be up 1 percent comparing with 2015, so refinery margins for gasoline are going to be good."
Crude Output
Global crude output remains strong. The Organization of Petroleum Exporting Countries produced 32.2 million barrels a day in October, surpassing its target of 30 million since June of 2014, according to data compiled by Bloomberg. In the U.S., output stays near a three-decade high.
Brent crude futures gained 57 cents to $44.14 a barrel Wednesday on the London-based ICE Futures Europe exchange, down 44 percent in the past year. West Texas Intermediate crude, the U.S. benchmark, rose 8 cents to $40.75 on the New York Mercantile Exchange after dipping below $40 intraday.
Brent is more important than WTI for determining gasoline prices in the U.S., the Energy Information Administration has said.
Regular gasoline averaged $2.13 a gallon nationwide Tuesday, the lowest level since February, according to Florida-based AAA, the nation's biggest motoring group. That puts the current premium of gasoline to Brent at $1.08 a gallon.
"Oil is oversupplied, and gasoline has been relatively tight," said Robert Campbell, head of oil-products research at Energy Aspects Ltd. "You make gasoline from crude, but they are two different markets. We are having really strong gasoline demand because of the low price."
Before it's here, it's on the Bloomberg Terminal.
LEARN MORE