France Scrutinizes EU's Terror Failings a Week After Attacks
by , , and
Europe must 'pull itself together,' interior minister says

Hollande presses ahead on military cooperation with Russia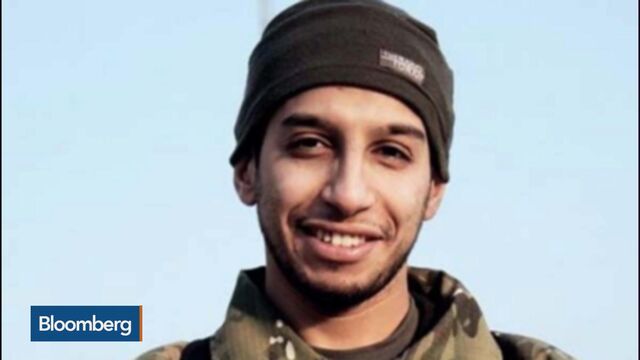 France took European allies to task after investigations exposed serious security flaws that may be partly to blame for the country's worst attack on home soil since World War II.
QuickTake Fighting Islamic State
In a thinly-veiled jab at Belgium, whose intelligence services are under scrutiny after investigators found at least three Brussels residents took part in the carnage, French Interior Minister Bernard Cazeneuve said "it's essential that Europe pulls itself together."

"There needs to be a collective realization by all European ministers, we need to move quickly and forcefully," Cazeneuve said ahead of a meeting with European Union counterparts requested by France in the Belgian capital.
An increasing body of evidence shows an intelligence breakdown may have allowed a well-flagged jihadi free to roam the continent. Cazeneuve highlighted how Abdelhamid Abaaoud, the suspected architect of the attacks killed in a police raid on Wednesday, had been implicated in four of six attacks foiled by French forces since January. He added that both international and European warrants had been issued for his arrest.
At least four of the attackers were listed on a counter-terrorism database maintained by the U.S. intelligence community, with one or more on a U.S. no-fly list, Reuters reported, citing unidentified U.S. officials.
Major Clues
The Belgian son of a Moroccan shopkeeper, Abaaoud was linked by French officials to a failed assault on a Paris-bound high-speed train in August and a plot to attack a church in the city in April. Belgian officials began tracking him in March 2014 after he appeared in a video behind the wheel of a pickup truck dragging mutilated bodies to a mass grave.
---
Paris Attacks: Full Coverage

"We are in a war against jihadist terrorism which is threatening the whole world" President Francois Hollande
---

The head of Europol, Rob Wainwright, warned Europeans to brace themselves for further attacks as Islamic State has "serious capability" to conduct more terrorist attacks. He told the European parliament's civil liberties committee that the agency's database contained the names of 28,000 people in the EU who needed to be monitored for possible connections to terrorism.
Almost a week after 129 people were killed in a series of shootings and explosions, France retaliated against Islamic State by eliminating Abaaoud and forging a military understanding with Russia to prepare heavier strikes against its Syrian bastions.
Passport Checks
Europe's worst terrorist violence in more than a decade is prompting much tighter screenings for citizens and visitors across the 28-nation bloc and a re-thinking of border-free travel. Full passport checks will be enforced when entering the European Union, in addition to tighter policing of external frontiers, according to a draft statement prepared for the Brussels meeting.

"Every country, especially those bordering France, needs to assume its responsibilities," French Prime Minister Manuel Valls said Thursday on France 2 television. "If they don't, it's the Schengen system that will be thrown into question."
France is adjusting to a new, tense state of normalcy. Early Christmas shoppers welcomed metal-detector searches at department stores. Meanwhile, the manhunt continued. 
In the Brussels area, nine people were detained on Thursday following searches tied to Hadfi Bilal, one of the Paris suicide bombers, federal prosecutors said. Authorities had opened an investigation into Bilal early this year after he left for Syria.
The Trio
As President Francois Hollande prepared to meet separately with his counterparts Barack Obama in Washington and Vladimir Putin in Moscow next week, his drive to form a coalition to target Islamic State appeared to be making faster progress with the Russians than with the Americans. From Manila, Obama insisted that Putin and his Iranian allies must drop their support for President Bashar al-Assad before an alliance could work.
In New York, France and Russia have dueling anti-terrorism resolutions to submit to the United Nations Security Council, where the French draft is gaining traction. It calls on members "that have the capacity to do so to take all necessary measures" to suppress Islamic State and to tackle the flow of foreign fighters and terrorist financing.
For about an hour on Thursday, General Pierre de Villiers, French armed forces chief of staff, and his Russian counterpart Valery Gerasimov discussed on the phone plans to fight Islamic State in Syria together, the Russian Defense Ministry said.
French officials said their air force has bombed four command sites and two training camps around Raqqa, Islamic State's Syrian stronghold, in the past three days. The jets have dropped about 60 bombs, they said.
Before it's here, it's on the Bloomberg Terminal.
LEARN MORE