Enel Has Ambitions to Become World's First Giant Green Utility
by and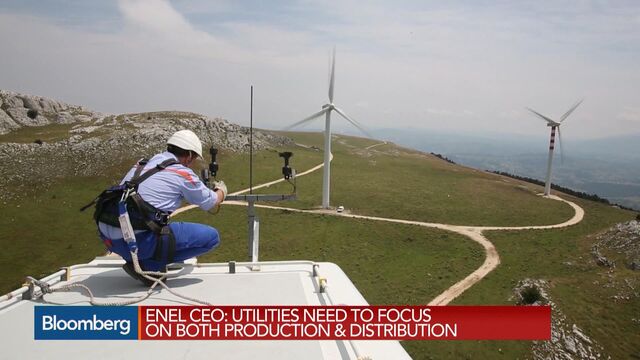 Enel SpA's Chief Executive Officer Francesco Starace plans to create the world's first major clean energy company with Wednesday's 3.1 billion-euro ($3.3 billion) buy-back of its renewables unit.
"It will become a very large integrated renewable energy company, which today does not exist," said Starace on Thursday in a Bloomberg television interview.
Italy's largest utility spun off Enel Green Power SpA in 2010. The renewables developer grew faster than it could fund itself, prompting the parent to reintegrate it. Utilities Iberdrola SA and Electricite de France SA made similar moves in 2011. Terra Firma Capital Partners also recently bought back the shares it didn't own in U.K. clean power firm Infinis Energy Plc two years after listing it.
Renewable energy has evolved from a frontier market to maturity in about a decade as costs for technologies such as solar panels and wind turbines plummeted. It will be the largest source of new power generation worldwide over the next five years, according to the International Energy Agency.
The Paris-based organization also said that the drop in oil prices risks reversing the advances into climate action, particularly in efficiency, biofuels and electric cars in its annual analysis of energy markets.
Starace does not expect the drop in fossil fuel prices as a threat to clean energy. "Renewable energy is moving from a niche to a maturity era," he said. "It is very stable, very competitive."
Before it's here, it's on the Bloomberg Terminal.
LEARN MORE