Dorsey Gets a $282 Million Birthday Present as Square Surges
Tom Metcalf and Lizette Chapman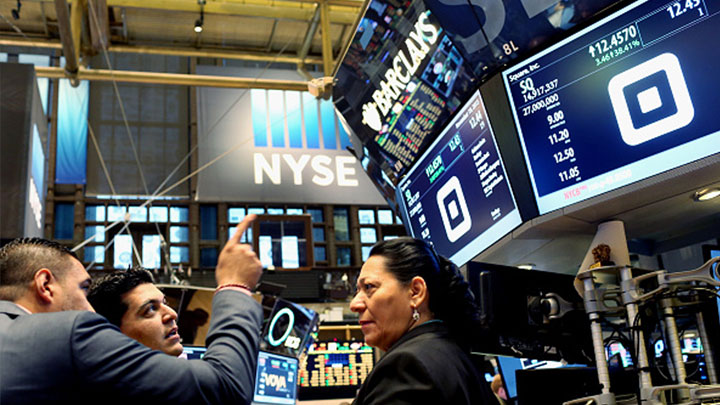 Investors are giving Jack Dorsey a $282 million birthday present.
The value of Dorsey's stake in Square Inc. was up about 45 percent as the San Francisco-based mobile payments company traded at $13.07 at the close in New York. The shares traded as high as $14.78 earlier in the day.
Dorsey, who's celebrating his birthday today, has a 22 percent stake valued at about $908 million in the business he co-founded in 2009, up from $626 million when Square's initial public offering was priced Wednesday at $9 a share.
The 39-year-old, who's also chief executive officer at Twitter Inc., has a net worth of $1.7 billion, according to the Bloomberg Billionaires Index. He won't be the only one to benefit from Square's pop. He's said he intends to give away about half his remaining shares in the company to charity, according to the prospectus.
Billionaire Vinod Khosla was also a big winner. His venture capital firm, Khosla Ventures, is the largest shareholder in Square after Dorsey. The value of Khosla Ventures's shares rose to $660 million from $455 million in the IPO.
Sequoia Capital and Kleiner Perkins Caufield & Byers are also making out well. The value of Sequoia's stake jumped to $206 million and Kleiner Perkins's to $113 million.
Firms that invested in later private rounds have benefited from the IPO in other ways. Square gave 10.3 million shares to some investors, such as JPMorgan Chase & Co. and Rizvi Traverse Management LLC, because of a provision in their financing agreements called a ratchet. The extra shares were granted when the IPO priced lower than the company expected. At the end of Square's first day of trading, those shares are worth quite a bit more.