Chesapeake Investors Seen Signaling Surrender as Bonds Plunge
by and
Energy producer bleeding cash amid tumble in commodities

`Investors capitulate to the reality of the situation'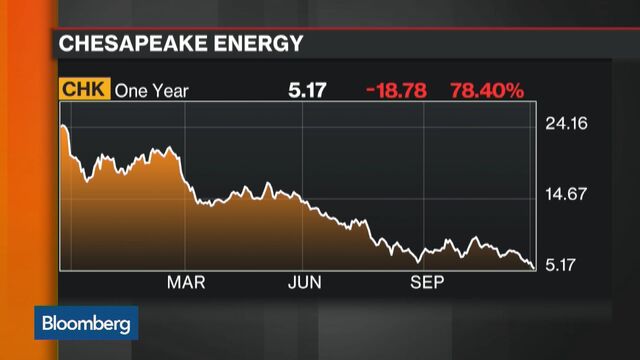 Credit investors who lent $11 billion to Chesapeake Energy Corp. are starting to give up on the company, the second-biggest junk-debt issuer in the U.S. energy industry.
Nearly all of the energy producer's bonds plummeted to their lowest levels ever on Thursday as oil dropped toward a more-than six-year low. Chesapeake notes were the second-most actively traded in the high-yield market, just behind Petrobras Global Finance BV.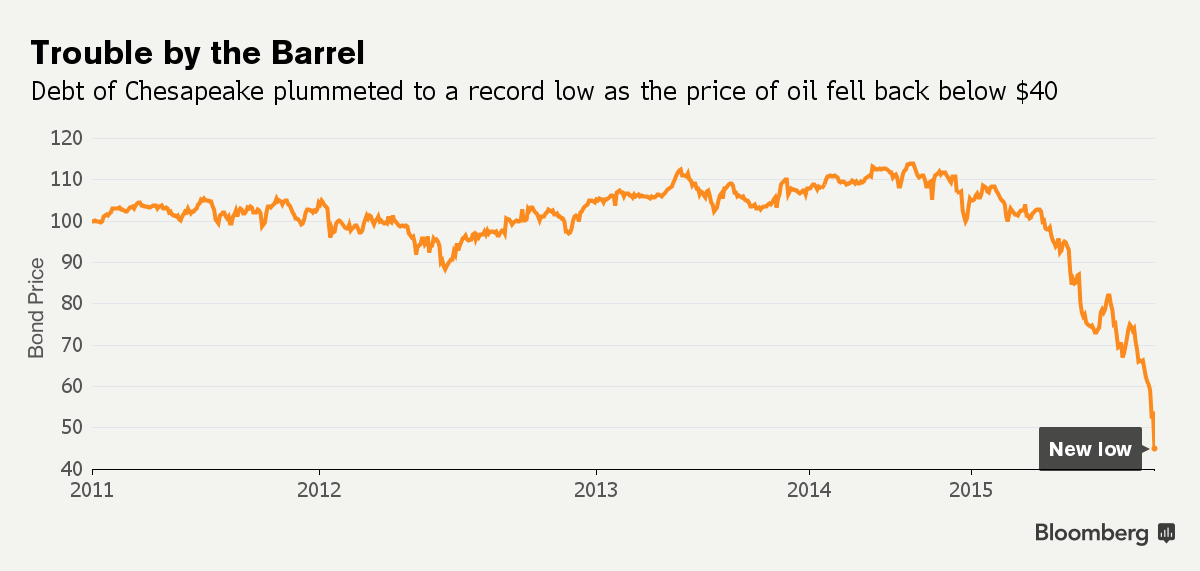 One of Chesapeake's bonds dropped 9 cents on the dollar, while the price of credit-default swaps -- used by investors to protect against defaults -- rose to the highest ever. The company's shares sank to a 13-year low.
"We are seeing investors capitulate to the reality of the situation," said John McClain, a money manager at Diamond Hill Capital Management Inc. in Columbus, Ohio, which oversees $16 billion. "They have a lot of debt, they are burning through cash and their earnings profile is not getting any better. They are trading worse than their credit rating suggests, and there is almost certainly a downgrade coming."
Gordon Pennoyer, a spokesman for the Oklahoma City-based company, declined to comment.
More Charges
Chesapeake, rated two steps below investment grade with a negative outlook by Moody's Investors Service, is making investors worry about its ability to pay back borrowings that are three times the current worth of its oil and natural-gas fields. The company, which took on most of its debt under former Chief Executive Officer Aubrey McClendon, recorded a $5.4 billion writedown in value of those fields when it reported earnings earlier this month. The recalculation wiped out third-quarter profits.
The company said more charges are coming because it sees no sign of a rebound in energy prices.
Oil dropped to as low as $39.89 a barrel Thursday, approaching the $37.74 level in August that was the lowest since 2009, as government data showed U.S. crude inventories rose to the highest for this time of year since 1930. Futures for natural gas, of which Chesapeake is the second-largest producer in the U.S., are down 21 percent this year to $2.276 per million British thermal units.
Cash Burn
The company's $700 million of 5.375 percent unsecured notes due 2021 dropped the most of the dozen Chesapeake bonds that traded Thursday, falling 9 cents to 41 cents on the dollar at 10:02 a.m. in New York, according to Trace, the bond-price reporting system of the Financial Industry Regulatory Authority. One of its biggest bonds, the $1.5 billion of floating-rate notes due 2019, fell 4.3 cents to 46.8 cents at 5:15 p.m., the data show.
Five-year CDS contracts rose 5.5 percentage points to 53.5 percent upfront, according to S&P Capital IQ. Swaps are used to protect investors against losses on company debt, and the price increases along with doubt about a firm's creditworthiness.
Energy companies are increasingly burning through cash as the collapse in commodity prices has reduced revenues, forcing them to get more creative in arranging financing. Some investors forecast that Chesapeake will have trouble meeting future commitments, including bond maturities and pipeline contracts, as it depletes its cash, said Tim Rezvan, an analyst at Sterne Agee & Leach Inc.
'Under Pressure'
"There's an expectation in the market that the company is going to get a second-lien loan," Rezvan said. "If that happens, everything that's subordinate to it comes under pressure."
Chesapeake said Nov. 1 it made an amendment to its credit agreement that allows for as much as $2 billion of new second-lien debt, according to Spencer Cutter, a Bloomberg Intelligence analyst. New debt at the second-lien level would outrank all of the company's $11.6 billion of bonds, which are unsecured obligations.
While Chesapeake had a stockpile of almost $1.8 billion in cash on Sept. 30, it would run out of money in less than seven months if it doesn't change its spending or raise money, according to data compiled by Bloomberg. The company also has $4 billion it can borrow on its revolving line of credit, according to a Nov. 4 regulatory filing.
With oil languishing near $40 a barrel, Chesapeake has had trouble selling assets to raise cash, Rezvan said. The cost of drilling is too high to make it an attractive investment at current prices, he said.
The company's shares slid 10 percent to $5.40 on Thursday in New York, pushing the decline this year to 72 percent.
Before it's here, it's on the Bloomberg Terminal.
LEARN MORE