business
BOJ Keeps Policy Unchanged After Recession, Weak Inflation
By and
Almost half of analysts surveyed don't see bank easing again

Kuroda says capital expenditures a little weaker than plans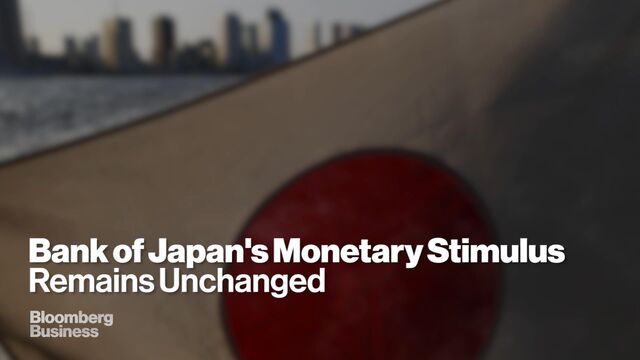 The Bank of Japan left its monetary stimulus unchanged on Thursday, indicating that the second recession since Prime Minister Shinzo Abe took office isn't enough to alter Governor Haruhiko Kuroda's view that the inflationary trend is improving.
The BOJ's decision to keep already unprecedented stimulus unchanged was forecast by all 41 economists in a Bloomberg survey and comes days after a report showing Japan fell back into a recession in the six months through September. Prices fell in August and September.
Kuroda has said that the inflation trend is improving while noting that he remains ready to adjust policy if needed. Economists are divided into two camps -- one expecting further easing early next year and another projecting no further action for the foreseeable future.
"The BOJ is already doing massive easing, and I don't think they want to do more because the additional impact will be limited," said Maiko Noguchi, an economist at Daiwa Securities Group Inc. and a former official at the central bank.
Twenty-one of 41 economists surveyed forecast the bank will add stimulus by April 2016 while 19 don't expect additional stimulus, according to the poll conducted from Nov. 13-17. One foresees further stimulus in November 2016.
Monetary Base
The BOJ kept its pledge unchanged to increase the monetary base at an annual pace of 80 trillion yen ($648 billion), according to a statement released Thursday.
The central bank said that "inflation expectations appear to be rising on the whole from a somewhat longer-term perspective," though it added that "some indicators have shown relatively weak developments."
In a briefing in Tokyo after the meeting's results were announced, Kuroda said Japanese companies haven't carried through on capital expenditures quite as much as their plans indicated. He said such expenditures should increase, even if a bit delayed.
Kuroda also said in the briefing that there was no need to change the view that price expectations in Japan are rising over the longer term.
Economists shifted their forecasts after the Oct. 30 meeting when 44 percent of analysts had predicted more stimulus. Even as the bank refrained from changing policy, Kuroda postponed the timing of reaching the inflation target by about six months, undercutting the view that a delay in reaching the goal would compel the bank to ramp up asset purchases.
Inflation Target
Economists are almost unanimous in forecasting that the central bank won't meet the 2 percent price target in its latest time frame of around six months through March 2017.
Japan's gross domestic product declined 0.8 percent in the three months from July to September, following a 0.7 percent drop in the previous quarter, with two quarters of contraction being the common definition of a recession. On the price front, consumer prices excluding fresh food dropped 0.1 percent for a second month in September.
Japan needs support measures, Economy Minister Akira Amari told reporters after the GDP report. The best way to do that would be for companies to use their cash reserves to boost wages and investment, he said.
Economists cited weak business investment as a key factor dragging down growth in the second and third quarters. The first back-to-back declines in capital spending were marked since 2011 while corporate profits rose to the highest level since 1954 in the second quarter.
"The BOJ is likely to be forced to ease further early next year," said Yuichi Kodama, an economist at Meiji Yasuda Life Insurance Co. "The BOJ must take action as there will be a change in the trend of inflation" with an anemic recovery, he said.
Seeking Clues
Some economists are taking a harder look at currency moves as they seek clues as to the timing of BOJ action. If the currency strengthens to above 110 yen per dollar, that could push the bank to change policy, according to Daisuke Karakama, an economist at Mizuho Bank Ltd.
"I don't think the BOJ will decide to loosen policy further if the yen is weaker than 120," said Chotaro Morita, chief rates strategist in Tokyo at SMBC Nikko Securities Inc. "The ground for more easing will be laid out once the yen strengthens to around 115 yen."
The Topix stock index added 0.9 percent to 1,600.38 at the close of trading in Tokyo after climbing as much as 1.5 percent. The yen rose 0.2 percent to 123.35 per dollar at 4:46 p.m. local time.
The BOJ board will meet again on December 17-18 after the Federal Reserve ends a two-day gathering on Dec. 16. The U.S. central bank is expected to raise interest rates, based on comments by Fed officials who held out the possibility of a December rate increase.
(A previous version of this story was corrected to fix the spelling of Kuroda in the third paragraph.)
— With assistance by Keiko Ujikane, Yoshiaki Nohara, and Isaac Aquino
Before it's here, it's on the Bloomberg Terminal.
LEARN MORE