Five Upmarket Hams to Revolutionize Your Holiday Table
From outside ham to Surryano ham, there are options outside of the traditional spiral ham you've been serving for years—and they're just as delicious.
By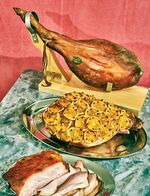 This Christmas, veer from the standard spiral-sliced ham and set the holiday table with a high-end option that draws on a variety of regional preparations.
The paper-thin slices of an Edwards peanut-fed Surryano ham may not be the knife-and-fork food of your youth, but the taste rivals the best of the legendary Spanish jamón Ibérico de Bellota—an entire leg of buttery, savory, meaty goodness. Virginia proprietor Sam Edwards has helped revive the venerated art of raising hogs fed on peanuts. The hind legs (with hoof intact) are salt-cured for about a month, rinsed, rested, hickory-smoked, and then hung to age for at least 18 months.
For the standard-bearer of the Southern table, go for a Benton's aged whole country ham. Dry-cured in Allan Benton's signature rub of salt, brown sugar, and red and black peppers, it's hickory-smoked at his headquarters in Madisonville, Tenn., and aged for 12 to 14 months. It's the sort of ham that chefs such as Momofuku's David Chang and Chris Shepherd from Underbelly in Houston (see recipe below) turn to when they want something that's more smoky, more porky, more funky—more everything.
If you're looking for something with broader appeal, try a wet-brined city ham. Butcher Tails & Trotters' outside ham, from Portland, Ore., is succulent and mild, with a modest mantle of opulently creamy fat developed in part by a diet that's heavy in locally grown hazelnuts.
The smoked bone-in ham from Ayrshire Farms, also in Virginia, comes from a farm that dates to the 18th century but is as progressive as any contemporary farm-to-table enterprise. These heritage Gloucester Old Spot and Tamworth hogs are pasture-raised on root turnips, field peas, and nuts and acorns, then sugar-cured and slow smoked for 14 hours. They come oven-ready. 
Earlier this year, French producers won permission from U.S. authorities to import the culinary pride of southwestern France, Jambon de Bayonne, to the United States for the first time. Their luxurious ham—so celebrated in the Basque region where it originated that the locals have celebrated a festival in its honor every Easter since the 1400s—is best served in slender slices, as an appetizer with a plate of cheese, bread, and olive oil. Or just add it on to pasta or chicken dishes. 
Whichever way you go, there's little chance any of these will last through New Year's Day.
---
How to Cook a Ham Like a Pro
For a flavorful country ham, do like chef Chris Shepherd. In a cooler, cover ham with cold water and ½ cup bourbon. Change both twice a day for three days. Place ham in a roasting pan, remove skin, blanket with orange slices, and secure them with cloves. Douse with 3 cups Sprite, and sprinkle with brown sugar. Cover and roast for 3 hours at 325F, or until internal temperature reads 140F.
Before it's here, it's on the Bloomberg Terminal.
LEARN MORE