After Years of Tumult in Argentina, Banks Hang Hopes on Vote
by
Macri vows to unwind policies banks say hindered lending

Spain's Santander, BBVA seen in best position to benefit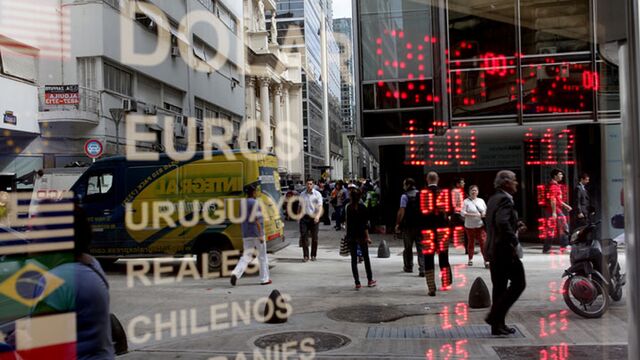 After years of enduring double-digit inflation and government interventionism, foreign banks in Argentina are hoping for a payoff with Sunday's presidential election.
The frontrunner, opposition candidate Mauricio Macri, has vowed to unwind policies that he says fueled stagflation and kept Argentina isolated from international capital markets for more than a decade. In addition to regulating peso trading, President Cristina Fernandez de Kirchner imposed measures such as rate caps and fee limits that impeded their ability to lend at a profit.
Local units of Spain's Banco Santander SA and Banco Bilbao Vizcaya Argentaria SA lead foreign banks in deposits, loans and assets, putting them in the best position to capitalize if reforms revive credit growth that's flagged amid one of the fastest rising inflation rates in the world. While austerity measures such as higher interest rates may initially weigh on the economy, analysts surveyed by Bloomberg say growth will revive by 2017, at about 2.5 percent.

"One hope is that if the opposition wins, all these distortions will disappear and banks can begin functioning normally," Juan Manuel Vazquez, a bank analyst at Buenos Aires-based brokerage Puente Hnos SA, said by phone. "In that scenario, there's great potential for foreign banks like Santander and BBVA to grow and eventually utilize all the excess capital they have -- which is a lot."
Ulla Karppinen, a BBVA spokeswoman, declined to comment, as did a Santander press official who asked not to be identified, citing company policy.
Macri had 46.5 percent support in a Nov. 9-12 Management & Fit poll of 2,400 people, compared with 39.9 percent for ruling-party candidate Daniel Scioli. The survey, which had a margin of error of 2 percentage points, shows 11.1 percent of people are still undecided, with 2.1 percent planning to cast a blank vote.
Citigroup, HSBC
Citigroup Inc., based in New York, has been in Argentina more than 100 years, while London's HSBC Holdings Plc, Brazil's Banco Itau BBA SA and the Industrial & Commercial Bank of China Ltd. also have operations in the country. Banco do Brasil SA is the majority shareholder of Buenos Aires-based Banco Patagonia SA.
Awash with pesos, banks have mainly used their excess cash to buy high-yielding central bank notes instead of making more loans -- which has kept their credit quality in good condition, Vazquez said.
Estimated inflation of 26 percent has made banks reluctant to approve long-term loans at fixed rates, he said. At the same time, consumers are balking at floating-rate debt, because costs might soar, as overall demand slows with the economy. The nation's mortgage market, which accounts for less than 10 percent of total lending, could boom once inflation is contained, Vazquez said.
Fee Caps
Banks suffered from measures that sapped profits from lending businesses, imposed by Fernandez to spur consumption and limit the outflow of dollars. They include interest-rate caps on consumer loans, forced lending to small companies at negative real interest rates, a minimum rate banks have to pay on deposits, and limits on fees, commissions, dividend payments and foreign-currency holdings.
"All of our banks have positive hopes for the next phase of our country," Claudio Cesario, president of the Argentine Banking Association, said in an e-mail. "There's consensus that the next government will make the necessary and appropriate measures to rid the obstacles that provoke our isolation from the rest of the world and prevent sustained economic growth."
Skeptics abound. The nation that's defaulted twice in the past 14 years will need to show concrete progress before analysts such as Banco BPI SA's Carlos Joaquim Peixoto believe Argentina can be a genuine source of revenue growth for foreign banks.
"After such a long period of turbulence, particularly with inflation, you need to actually start seeing changes to start believing in them," Peixoto said in an interview from Porto, Portugal. "If indeed a positive scenario materializes, you have the scope for Argentina to regain some momentum, and of course Santander and BBVA as relevant players in the market will be well-placed to benefit from that."
Before it's here, it's on the Bloomberg Terminal.
LEARN MORE