Auctioneer Phillips's President Michael McGinnis to Step Down
by
McGinnis leaves after 16 years at the boutique auction house

CEO Ed Dolman revamps management team, adds new categories
Michael McGinnis, president of auction house Phillips, is leaving the company after 16 years as the smaller rival to Christie's and Sotheby's undergoes a transformation under new senior management.
McGinnis will step down on Nov. 30 to spend time with his family and pursue other opportunities, Phillips said Thursday in an e-mailed statement. After founding the contemporary-art department in 1999, McGinnis became the boutique auctioneer's chief executive officer in 2012 and held the post until CEO Edward Dolman's arrival in 2014, when he assumed his current role.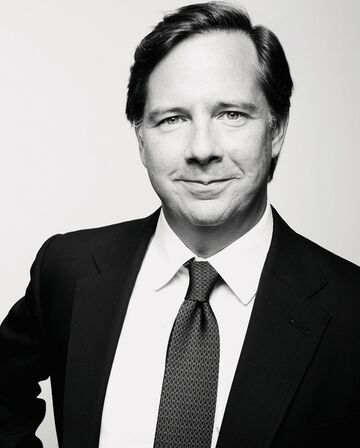 "I am extremely grateful for the many years of work that Michael has contributed to the company," Dolman said in a statement. "Michael built an incredible foundation that we can all build on. He was instrumental in helping me transition into this role -- always offering the highest level of counsel and dedication to Phillips."
Dolman is assembling a team of top former colleagues from Christie's, where he was CEO for a decade, and expanding into new regions and collecting categories. In September, Phillips strengthened its digital presence by partnering with EBay Inc. On Nov. 8, the company's auction of 20th century and contemporary art in New York tallied $66.9 million, a 29 percent increase from the comparable event in 2014. On Dec. 1, the firm will hold its first auction in Hong Kong, offering more than 350 vintage and modern watches.
McGinnis, 45, is among several Phillips veterans who are leaving just as the new guard arrives. Recent departures include Olivier Vrankenne, Brussels-based co-head of contemporary art in Europe, and Patricia G. Hambrecht, chief business development officer.
Industry Changes


Phillips's bigger competitors are also in the midst of personnel changes under new leadership. Sotheby's is offering employees voluntary buyouts to cut costs and may have to resort to layoffs, CEO Tad Smith, who joined the company in March, told employees this month in an e-mail.
Several staffers have left Christie's since Patricia Barbizet took over as CEO late last year, some to join Phillips. They include Robert Manley, who was the New York-based deputy chairman of postwar and contemporary art, and Vivian Pfeiffer, director of private sales in North America and Latin America.
McGinnis moved to Phillips from Christie's in 1999, shortly after it was bought by French billionaire Bernard Arnault, chairman of LVMH Moet Hennessy Louis Vuitton SE. Phillips, which dates to 1796, hadn't been known for contemporary art, and McGinnis was among the key executives who turned the boutique into a taste maker in art and design, said Simon de Pury, the company's former chairman and flashy auctioneer.
"He is a man of great expertise and integrity," de Pury said in a telephone interview. "He knows the market inside out and is as knowledgeable about postwar art as he is about cutting-edge art."
'Phenomenal' Time


McGinnis remained at Phillips through its many changes. In 2002, Arnault sold the company to de Pury and Daniella Luxembourg. The following year, de Pury bought out Luxembourg and for the next nine years the company was known as Phillips de Pury.
In 2008, the company was bought by Russia's Mercury Group, whose owners Leonid Friedland and Leonid Strunin are known in the art world as "the Leonids." The following year, Phillips found a new CEO: Bernd Runge, who had been a spy for the East German Stasi secret police in the 1980s. He lasted until September 2012 and was replaced by McGinnis.
"My time at Phillips has been nothing short of phenomenal," McGinnis said in the statement. "But the time has come for me to broaden my horizons and pursue new challenges."
Before it's here, it's on the Bloomberg Terminal.
LEARN MORE