Argentina's Unreliable Polls Mean Traders May Be Too Optimistic
by and
Bond selloff is a big risk if Scioli pulls off surprise win

Opposition candidate Macri leads polls with 46% support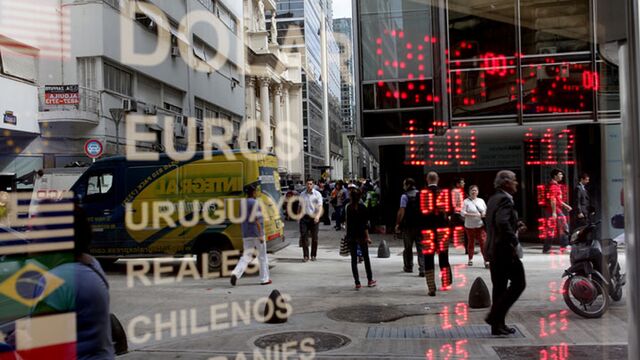 Bond investors may be putting too much stock in Argentina's presidential polls.
The country's benchmark bonds have surged to an eight-year high as voter surveys show opposition candidate Mauricio Macri will win Sunday's runoff vote, potentially setting the stage for sweeping policy changes that may allow the government to regain access to foreign debt markets and revive the economy.  

But given how wrong the polls turned out to be in the first round of voting last month, the final result may still be a toss-up, said Bianca Taylor, a sovereign analyst at Loomis Sayles in Boston. The ruling party's Daniel Scioli had long figured as the clear frontrunner in surveys leading up to the Oct. 25 election only to unexpectedly end up in a near tie with Macri when all the votes were counted. A selloff is likely to ensue if Macri loses to Scioli, who has promised to make only gradual changes to policies investors blame for stagnant growth and soaring inflation.
A Scioli win means "significant downside," Jim Barrineau, director of Latin American fixed income at Schroder Investment Management, said from New York. "All the momentum is with Macri. But you have to allow for erratic polls in emerging markets."
Macri had 46.5 percent support in a Nov. 9-12 Management & Fit poll of 2,400 people, compared with 39.9 percent for Scioli. The survey, which had a margin of error of 2 percentage points, shows 11.1 percent of people are still undecided, with 2.1 percent planning to cast a blank vote.
Before the first-round vote, a poll by the same firm showed Scioli was favored by 38.3 percent of voters, compared with 29.2 percent for Macri. 
A poll released late Wednesday by Elypsis, an economic research firm that correctly detected a late surge in votes for Macri ahead of the first round, showed that the opposition candidate would capture 47 percent of the vote versus 39.3 percent for Scioli. The election could still be swayed by 11 percent of voters who remain undecided, according to the survey.
Investor caution on election projections comes after high-profile polling misfires around the world in the past year, notably in Greece, Israel and the U.K., have called into question whether technological and social shifts are hampering polls' reliability.
Argentina's $4 billion of defaulted bonds due in 2033 have gained 6.9 percent since Oct. 25 to 113.3 cents on the dollar as investors bet a Macri victory means the country will look to settle its decade-long debt dispute and end currency controls. In July 2014, President Cristina Fernandez de Kirchner's refusal to abide by a U.S. court ruling requiring Argentina repay disgruntled creditors led to the nation's second default in 13 years.
While a Scioli victory may initially trigger a bond slump, the decline will be limited, said Gerardo Rodriguez, a money manager at BlackRock Inc. The fact that the elections went to a runoff was a "game changer" because it indicated Argentines want different policies.
"Markets have rallied, not only on the prospect of a Macri victory, but also on the fact that the mandate for Scioli if he wins will be one of change," Rodriguez said.
Still, to AllianceBernstein LP's Marco Santamaria, a Scioli win won't be welcomed by bond investors. He pointed to Scioli's inability to gain ground on Macri in a debate Sunday, which has made investors even more optimistic.
"The market has been getting used to the idea of a Macri win, given the recent polls and the outcome of the debate," said Santamaria, who manages $27 billion in emerging-market debt. "So I think it would be logical to expect some disappointment in the market if Scioli were to pull off a surprise win."
Before it's here, it's on the Bloomberg Terminal.
LEARN MORE