World's Worst Currency Rout Turns Norway Prince Into Fishmonger
By
Real's 30% plunge puts Norway's cod off menu in much of Brazil

Norway's companies in Brazil also suffering due to oil slump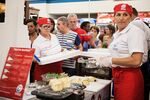 In a Rio de Janeiro supermarket, a man in a trim, navy suit carried a tray of grilled cod with sliced olives and handed out the nibbles to shoppers. The tasting wouldn't be so out of the ordinary if it weren't for the identity of this fishmonger: The crown prince of Norway.

Crown Prince Haakon's stopover on Tuesday is part of a four-day trip across Brazil to help drum up demand in what was once a thriving import market. It adds to evidence that the effects of Brazil's recession are rippling far beyond its borders.
Brazil's currency drop has been so severe -- 30 percent this year, the most among 24 emerging economies -- that it's altering consumers' buying habits. As import prices surge, fueling inflation that's running close to 10 percent, Brazilians are purchasing less of everything from foreign-made electronics to Norwegian cod, a favorite among locals since the Portuguese royal court moved the empire's capital to Rio in the 1800s. Today, fried cod balls are a common finger-food at bars, and the fish is a staple in traditional holiday dishes.
"Ever since I was a little girl, my mom always bought a little piece to put on the table," said Nuesa Fonseca, a 65-year-old parking-lot attendant from a nearby slum. She said she'll do whatever it takes to scrape together the money to afford the Christmas meal.
The real gained 0.2 percent to 3.8077 per dollar as of 11:27 a.m. in Sao Paulo trading Wednesday.
Compounding Brazilian shoppers' troubles is a recession that's forecast to drag into next year and unemployment that has surged to the highest this decade. That renders Prince Haakon's outing to revive demand in Norway's fifth-biggest cod market more challenging.
Cod export volumes from Norway to Brazil have tumbled 37 percent in the first 10 months from the same period a year earlier, according to data from the Norwegian Fishing Council. The western European country is also suffering as Brazil's gas and oil industry slumps. Brazil is the biggest offshore market for Norwegian companies such as Aker Solutions ASA that sell subsea systems and drilling services.

While Brazil's statistics institute doesn't track the price of cod individually, Arlison Martins, head of protein at Brazilian supermarket chain Zona Sul, said the cost has climbed 40 percent since last year. That's led to the biggest drop in sales volume of all the meats he oversees.
"People are opting for other types of meat -- that happens a lot," Martins said by phone from Rio. "They start to migrate."

The Rio supermarket that Prince Haakon visited offered a 17 percent discount on the new "noble cuts" being promoted. It still left Norwegian fillets about twice as pricey as salmon and Alaskan cod.
"I adore cod," said Conceicao da Gloria Barradas Fonseca, a 77-year-old Brazilian who cut her cod consumption to once a week from three times before the crisis. "I can't always buy it, because it's very expensive. Even more now, because of the dollar."