When Did Eco Documentaries Get So Slick?
Racing Extinction uses Hollywood-style production and storytelling to transmit its urgent message.
By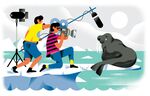 In an early scene of the documentary Racing Extinction, undercover agents infiltrate a trendy restaurant in Santa Monica, Calif. Using hidden cameras, they capture a waiter serving endangered whale sushi. "Three pieces, we got it," says Louie Psihoyos, the marine activist who's parked outside monitoring the sting. "It's a bingo."
Psihoyos, who won an Oscar in 2010 for his documentary The Cove, is the film's director and Anthony Bourdain-like main character. With a team of activists, he travels the globe interviewing experts and uncovering wildlife smuggling. Beautifully shot, the film details how man-made pollution, overfishing, and poaching of endangered animals and sea life could wipe out up to half the world's species within 100 years. On Dec. 2 the Discovery Channel will air Racing Extinction in 220 countries and territories.
Once synonymous with musty, eat-your-vegetables schoolroom fodder, documentaries are fast becoming the environmental movement's medium of choice. The latest replace bleak lectures with Hollywood production values and edge-of-your-seat storytelling. Racing Extinction has an urgent but hopeful message—not to mention an original soundtrack starring Sia and Antony Hegarty and a marketing campaign that would rival a summer blockbuster.
Racing Extinction is part documentary, part thriller. Psihoyos's team poses as culinary tourists to film warehouses stocked with thousands of shark fins. They profile an Indonesian village where the primary income is from overfishing manta rays, a species in fast decline. Like Hollywood's best, the film plays on our heartstrings, but it also works hard not to demoralize viewers into fatalistic apathy. Throughout, Psihoyos visits activists, scientists, and entrepreneurs—from Jane Goodall to Elon Musk—who've helped change laws, stop illegal trade, and provide clean-energy alternatives.
The movie is easier to stomach than The Cove—intentionally so. That film exposed the slaughter of thousands of dolphins off the coast of Japan in grisly detail. "A lot of people are still afraid to watch The Cove," says Fisher Stevens, who co-produced both films. "Racing Extinction is more accessible."
Technology has aided filmmakers such as Psihoyos: In an age of GoPros and Inspire drones, it's easier to shoot stunning nature footage or risky covert operations. Technology also affects distribution: What used to be restricted to IMAX or art-house movie theaters and PBS is now a mainstay of Netflix, sites such as Vice, and hundreds of nonfiction cable channels hungry for content.
"We were surprised to find that people have a real appetite," says Jennie Morris, an executive vice president at Pivot, an issue-based TV network now in 50 million homes. "Environmental and water issues really pop," she says, though she won't share the network's viewer numbers.
Eco flicks date back to the 1930s, when the Roosevelt administration hired activist Pare Lorentz to make topical films to play in theaters alongside Hollywood features. In the following years, audiences would be captivated by Jacques Cousteau, Marlin Perkins, and IMAX movies at the museum, but many of those projects celebrated the beauty of nature without engaging in the controversy surrounding its preservation. Activist films didn't take off with the general public until 2006, when Al Gore released An Inconvenient Truth. "It was a game changer," says Betsy McLane, author of the second edition of A New History of Documentary Film. "People actually went out and bought Priuses."
Post-Truth, CNN aired Blackfish, about SeaWorld's abuse of killer whales. About 21 million tuned in. (As a result of the outrage, SeaWorld in November announced it will phase out orca shows in San Diego.) Years of Living Dangerously, an Emmy Award-winning Showtime series about climate change, is set for a second season. And National Geographic recently aired Bill Nye's Global Meltdown, in which the Science Guy confronts the "five stages of climate change grief."
In Racing Extinction's finale, Psihoyos teams up with artist Travis Threlkel to project giant images of endangered wildcats, wolves, and whales on the Empire State Building and other locations. We see throngs of people caught off guard, staring at the illuminations as Sia sings, "Better to light one candle than curse the darkness." Psihoyos's intentions are clear: We still have a chance, he says, "if you can show people the beauty of these things."
Before it's here, it's on the Bloomberg Terminal.
LEARN MORE