What to Watch as EU Talks on U.K. Reform Demands Enter New Phase
Refugee crisis key to referendum
by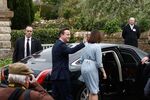 European Union member nations are assessing a list of reforms U.K. Prime Minister David Cameron has demanded even as business surveys and opinion polls show Britain is deeply split on whether it wants to remain a member of the European Union.
Analysts say a referendum next year rather than in 2017 is preferable as any delay could weigh on investment in the U.K. economy.
The vote may eventually weigh on the pound and other sterling assets and will likely lead to a surge in volatility in U.K. financial markets closer to the referendum, they add.
Implied volatility in the pound spiked across many tenors last week with as Cameron outlined his demands. Six-month volatility reached the highest level since June while one-year volatility was highest since before the May election.

John Mills, co-chairman of Business for Britain and Mike Cherry, director of business lobby group Federation of Small Businesses are scheduled to testify on the economic and financial costs and benefits of U.K. membership to members of parliament on Wednesday at 2.15 p.m. in London.
What's the latest
EU President Donald Tusk said talks on negotiations needed to keep U.K. in the EU would enter a new phase this week after Cameron published his demands last Tuesday.
One of the prime minister's four demands, that welfare rights for non-U.K. citizens be restricted, has already been rebuffed as discriminatory by the European Commission.
And Tusk said there's no certainty of a deal by December, telling German newspaper Handelsblatt that the risk the U.K. will leave the union is a real one as the refugee crisis adds fuel to arguments from the U.K.'s euro-skeptics.
Meanwhile, supporters of the 'out' campaign back in the U.K. criticize Cameron's demands for not going far enough.
Global Britain's Brian Monteith said the number of demands was whittled down to four from 24 and Vote Leave's Stephen Parkinson, formerly defence secretary Theresa May's senior Special Adviser, said Cameron's negotiation isn't being taken seriously in the EU.
What's next
The EU is meeting with representatives from four countries each day, according to an EU official speaking on condition of anonymity to discuss the U.K.'s demands. A broad assessment of whether Cameron's demands are likely to succeed or fail is expected by the end of the month.
EU leaders will then discuss the demands at a meeting of the European Council on December 17-18.
All 27 other EU countries must agree to any changes before they can come into effect.
Cameron said last week there will be more clarity on the timing of the vote once changes have been secured.
When will the vote take place
This is still unclear although it has to be before the end of 2017 with press reports suggesting the U.K. government favors a vote as soon as June 2016.
Cameron's tone last week supported the view that he wants to speed things up, allowing for a referendum in the summer of 2016, Mujtaba Rahman, head of the Europe practice at Eurasia Group in London, wrote in a client note.
Others say negative headlines on the refugee crisis may increase support for Britain to leave the EU, spurring an earlier vote. Then again, there's a risk the vote will be delayed if the spike in migration this summer looks set to be repeated next summer, economists at HSBC said.
The U.K.'s presidency of the EU in the second half of 2017 would complicate any plan to hold the referendum then, Europe Minister David Lidington says.
Capital Economics said an earlier vote is better as it would reduce the period of uncertainty.
Who wants what
A Survation poll last week showed support for leaving the EU rose to 53 percent and that only one of Cameron's demands matches the public's top four priorities - restrictions to welfare for new EU migrants. A list of polls is here.
Views from business groups, hedge funds and trade unions are split with many saying their support for staying in depends on what changes Cameron can secure
Leaders of small businesses who would vote to leave the EU, cite red tape and immigration as reason, according to a survey by the Federation of Small Businesses.
What's the likely outcome
Most analysts, including those at Credit Suisse Group AG and ICBC Standard Bank PLC, still expect the U.K. to vote to stay in the EU.
Morgan Stanley analysts see a close contest with a 35 percent probability the U.K. will vote to leave and 15 percent chance of clear victory for 'in' campaign.
Polls show the proportion of voters opting to remain rises significantly if Cameron gets a deal which he says secures the U.K.'s interests, HSBC said.
The share of Conservative voters who will vote to stay will be higher if both Cameron and London Mayor Boris Johnson back the stay campaign, Peter Kellner, president of polling company YouGov, wrote in Prospect magazine.
The main risk is that the renegotiation falls short of public expectations, BofAML analysts including Robert Wood said.
Expect some changes, because for the EU to offer the U.K. nothing would be akin to holding the exit door open, analysts at the bank added.
The recent attacks in Paris could play into the hands of the euroskeptic 'out' campaign, Teneo analyst Antonio Barroso said. The risk of U.K. exit from the EU has risen to 30 percent amid the migrant crisis, Berenberg said, without disclosing what it had previously calculated the likelihood to be.
What does it mean for markets
The date of the referendum is key as traders have in the past waited until just weeks before any vote to price in risk premium.

Credit Suisse analysts led by Neville Hill say markets started pricing in the possible risks from the Scottish referendum and this year's general election six months ahead of the actual votes. The potential economic ramifications this time are substantial, they added, saying this suggest there's a risk of a selloff in the pound amid high volatility.
While the pound may plummet the moment the U.K. votes to leave, it isn't clear it will rally strongly if U.K. votes to stay, said Steve Barrow, head of Group-of-10 strategy at ICBC Standard Bank in London.
GBP could still rise considerably before any EU-referendum nerves take hold. If polls show similar volatility to the Scottish vote, a short sterling strategy through options, may be the best way to trade the EU referendum, Barrow said.
Morgan Stanley analysts including Jacob Nell also expect pressure on the pound but only a limited relief rally on a stay outcome.
If the U.K. votes to leave, the pound may fall 10-20 percent; sterling-denominated credit is likely to face a significant liquidity challenge, Morgan Stanley said.
Heightened uncertainty will weigh on small and mid- cap stocks more than on large caps. GBP credit spreads are already wider than in the run up to last year's Scottish referendum. Any incremental downside is likely to be contained, analysts at the bank said in published research.
RBS analyst Clement Mary-Dauphin said the GBP/USD rather than EUR/GBP is a better pair to watch for signals on market expectations in currency markets.
In rates, analysts at the bank recommend options strategies to hedge some tail risk that gilts come under selling pressure.
What else is at stake
Around half the world's largest financial-services firms have global or regional bases in the U.K. Membership offers "passporting rights,'' which let them freely provide services in any of the other 27 EU countries, Bloomberg Intelligence's Sarah Jane Mahmud said.
Before it's here, it's on the Bloomberg Terminal.
LEARN MORE