Wall Street Raises Over $1.7 Million For St. Jude In One Night
Inside the fundraiser at Guastavino's.
by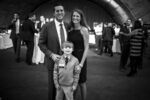 For 26 years Wall Street has been holding an annual gathering to sample food from some of New York's finest restaurants while raising millions of dollars for children with cancer. 
Last night's event was no exception, with hundreds of Wall Streeters heading to New York's Guastavino's to taste food from the likes of Benihana, Bobby Vans, Le District, Luke's Lobster, and Trifecta Wines.
All of the cuisine on offer from the vendors was donated, as were auction items that included a New York Giants team experience.

One of the biggest donors of the night wasn't a restaurant, however, but hedge fund titan Steve Cohen.
Rick Shadyac, the CEO of St. Jude's fundraising organization ALSAC, said he met with the Cohen family earlier in the day and that Steve and his wife Alex have committed to donating $20 million to St. Jude over the next five years. 

"It's really powerful what you can do in one night," committee member Ferris D'Angelo of Bank of America Merrill Lynch said. 

It wasn't just Wall Street that made an appearance.
St. Jude brought in the Dismuke family from Tennessee. Parents Craig and Ashley shared their St. Jude story, as their son Ingram was diagnosed with a brain tumor in 2012 and is doing remarkably well today. "St. Jude is truly a place of hope," Craig said. 

The event has now raised more than $40 million since its founding.
Corporate sponsors included UBS, Bank of America-Merrill Lynch, and Goldman Sachs.
Bloomberg is also a sponsor. 
Before it's here, it's on the Bloomberg Terminal.
LEARN MORE