U.K. Warship to Support French Carrier Against Islamic State
by
HMS Defender Will Provide Air Cover for Charles de Gaulle

Cameron Pushing for U.K. Planes to Join Airstrikes in Syria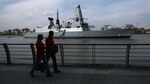 Britain is sending a Royal Navy warship to support French aircraft carrier Charles de Gaulle, which is being deployed to carry out strikes against Islamic State in Syria following Friday's terrorist attacks in Paris.
HMS Defender will provide air cover for the French vessel, the Ministry of Defence in London said in a statement on its website Wednesday.
"This barbaric terrorist organization must be destroyed and it's right that we offer all the support we can to confront them," U.K. Defence Secretary Michael Fallon said in the statement. "We will consider any further requests for support from France under Article 42.7 of the EU Treaty following Friday's Paris terror attacks."
On Tuesday, France became the first country to invoke the European Union's mutual-defense clause, in force since 2009, which says that if a country "is the victim of armed aggression on its territory, the other member states shall have toward it an obligation of aid and assistance by all the means in their power."
U.K. Prime Minister David Cameron has said the Paris attacks strengthen the case for extending British airstrikes against Islamic State into Syria from Iraq. He's held back from asking Parliament to vote on the issue for lack of cross-party support.
No Substitute
"We cannot dodge forever the question of how to degrade and destroy ISIL in both Iraq and Syria," Cameron told the House of Commons in his weekly question-and-answer session Wednesday, using another name for Islamic State, when opposition Labour Party leader Jeremy Corbyn challenged him on the need to shut off funding and the supply of weapons to the group. "Yes, we should go after the money and the banks, and cut off supplies to ISIL, but we should not make that a substitute for the action that is required to beat those people where they are."
Before it's here, it's on the Bloomberg Terminal.
LEARN MORE