Fantasy Sports Scrutiny Poses Threat to a TV `Golden Goose'
by
Sites drove about 60 percent of TV ad revenue growth: analyst

FanDuel, DraftKings face NY suit over alleged illegal gambling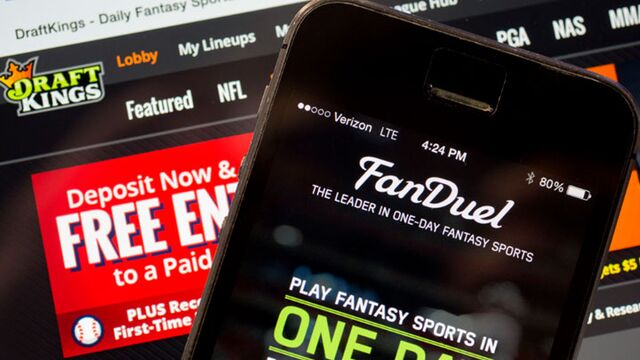 The future growth of television advertising could be hobbled by a crackdown on one of its big contributors: daily fantasy sports sites. 
Almost 60 percent of the increase in ad sales last quarter -- or $134 million of total growth of $227 million -- came from daily fantasy sports companies, Todd Juenger, a media analyst at Sanford C. Bernstein & Co., wrote in a research note Wednesday. He called that amount both "startling" and "unsustainable."
"Daily fantasy sports sites may not even exist next year," Juenger said.
That's because FanDuel Inc. and DraftKings Inc., the startups that dominate the daily fantasy sports industry, are under growing scrutiny from regulators. On Tuesday, New York Attorney General  Eric Schneiderman sued both companies, arguing they're a form of illegal gambling and should be shut down in the state. A Manhattan judge will decide on Nov. 25 whether their sites can continue operating.
Revenue Stream Threatened
The legal challenge is threatening what has become a growing source of ad dollars at media companies with sports programming, like CBS Corp., Walt Disney Co. and 21st Century Fox, Juenger said. Fantasy sports companies claimed so much TV ad inventory last quarter that they also drove up prices across the industry, even helping media companies without sports programming, like AMC Networks Inc., he said.
The sites have been flooding the airwaves with their get-rich-quick commercials, mostly on sports networks. Earlier this fall, DraftKings and FanDuel were among the Top 10 biggest spenders on TV advertising, but have since dropped off that list, according to ad tracker iSpot.tv.
FanDuel's advertising fluctuates based on the sports calendar, said Justine Sacco, a spokeswoman for the company. 
"It spikes at the beginning of football season when we acquire the majority of our new users and declines as the season progresses, so you will see a strategic decrease in spend moving forward," Sacco said in an e-mail.
DraftKings' advertising strategy was to have a strong presence in the market early in the National Football League season, the company said in an e-mailed statement. 
"Since then, we've scaled back strategically," DraftKings said. "Additionally we are a very analytically driven company and discontinue channels that are not performing well for us."
'Golden Goose'
So far this year, DraftKings has spent more than $154 million on almost 46,000 TV commercial spots, while FanDuel has spent almost $112 million on more than 27,000 commercial airings, according to iSpot.tv.
Owners of TV networks "should be concerned" if regulators crack down on the business, Michael Nathanson, an analyst at MoffettNathanson LLC, wrote in a note Wednesday. That could have an impact on ratings as well as ad spending, he said.
"Killing the golden goose of daily fantasy sports would definitely be against the interest of the NFL's network partners," Nathanson wrote.
Both Fan Duel and DraftKings are valued at more than $1 billion each and have raised a combined $575 million in funding through investors that include several big media companies, including Fox, Time Warner Inc. and Comcast Corp., according to Bloomberg Intelligence.
FanDuel Chief Executive Officer Nigel Eccles told Bloomberg earlier this month that his company will focus less on television in the future and more on cheaper, more targeted digital ads. DraftKings has asked some TV networks to delay its ad commitments as it faces legal challenges, the Wall Street Journal reported Monday, citing people familiar with the matter. However, the company hasn't specifically asked to move its ad commitments to the first quarter from the fourth, the Journal reported, citing a person close to the company.
Before it's here, it's on the Bloomberg Terminal.
LEARN MORE