Suncor Chief Busts Oil-Sands Cost Paradigm in Hunt for Deals
Eric Lam and Pamela Ritchie
Oil producer one of few to generate cash amid low prices

Company not willing to `chase' Canadian Oil Sands: Williams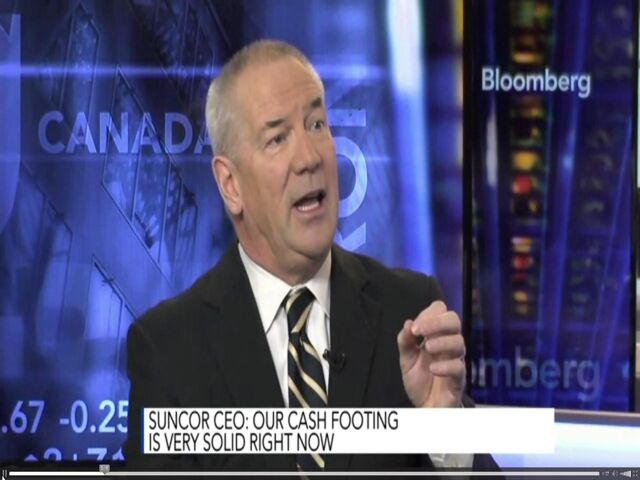 Suncor Chief Executive Officer Steven Williams is seeking more assets in Canada's beaten-down oil sands, saying he's cracked the code for making money in the notoriously costly region.
The country's largest crude producer is seeking to take advantage of an industry downturn to get even bigger. As competitors struggle or walk away from bitumen production in northern Alberta because of a 60 percent slide in crude prices since June of last year, Suncor is ready to step in, Williams said.
"We're starting to bust this paradigm of Canadian oil sands being expensive," Williams said before an interview on Bloomberg TV Canada in Toronto. "As an operating business, it's not. We prepared ourselves well, we managed the cost side of our business, and we have generated cash in each of our quarters. We're one of the few oil companies in the world to do that."
Suncor, which has been urging shareholders of Canadian Oil Sands Ltd. to accept its C$4.7 billion ($3.5 billion) hostile takeover bid after the target's board rejected the proposal, will pursue other consolidation opportunities in the industry, Williams said.
Financial Health
"The price cycle is starting to test corporations that don't have a healthy balance sheet," he said. "So if you're Suncor, you come in with a well-financed balance sheet, we have lots of opportunity and we look right across our business."
After cutting more than 1,000 jobs and lowering its 2015 capital budget by C$1 billion earlier this year, the Calgary-based company said Tuesday it plans to increase investment to expand operations and improve efficiency. The capital spending plan for next year was set at C$6.3 billion to C$7.3 billion. That compares with about C$6.3 billion this year, the average of 14 analysts' estimates compiled by Bloomberg.
Suncor's operating costs for the year will come in at the "very low end" of guidance, Williams said. The company estimates its oil-sands operating costs per barrel, excluding the Syncrude venture, will be C$27 to C$30 next year. The U.S. benchmark crude has traded at little more than $40 a barrel, compared with more than $100 in June 2004.

Oil producers with long-life assets -- as much as 50 years in the case of the oil-sands -- generally can't produce these kinds of results, while producers with short-life reserves have to spend regularly to replace production, he said.
Market Access
And while the company broadly supports the construction of pipelines, including TransCanada Corp.'s recently rejected Keystone XL, Suncor doesn't have any market access issues and is well-positioned to 2020 and beyond, Williams said.
One thing Williams isn't planning to do is to boost the offer for Canadian Oil Sands, its partner in the Syncrude oil-sands project. The existing price is full and fair, and Suncor shareholders are telling him not to outbid himself, Williams said.
"I have lots of places I can put money," he said. "My shareholders are saying, 'Don't chase, don't overvalue any of the options you're looking at, Steve. You have a long list of projects you can do and a long list of companies that could be a fit with Suncor. Take your time."'
While oil tycoon T. Boone Pickens has sold out of the oil sands by exiting his position in Suncor in the third quarter, Billionaire Warren Buffett's Berkshire Hathaway Inc. seems to be banking on Williams' ability to deliver on the company's plans. The firm held 2 percent of Suncor as of the end of September after buying about 7.6 million shares.
"We're very proud to have Berkshire Hathaway and Warren Buffett as significant owners," Williams said during an interview on Bloomberg TV Canada. "He has a reputation for smart, long-term investments. He picks management teams and companies that have capital discipline and that's exactly what's important in this case," he said referring to Suncor's pursuit of Canadian Oil Sands.
Before it's here, it's on the Bloomberg Terminal.
LEARN MORE