Sløk: Fed-Fueled 'Tourists' Will Determine the Market's Fate
Years of loose monetary policy have encouraged tourists to take a vacation in higher-yielding assets. With a U.S. interest rate hike looming, those flows could soon reverse.
By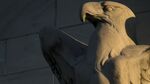 Torsten Sløk, Deutsche Bank's chief international economist, has pointed to one sign that investors might be getting a bit jittery ahead of a potential interest rate hike from the Federal Reserve: soaring sales of American Eagle gold coins.