U.S. Stocks Rally as Fed Minutes Stress Gradual Rate Increases
by and
Apple shares boosted by Goldman Sachs analyst comments

Railroads rise as Canadian Pacific pursues Norfolk Southern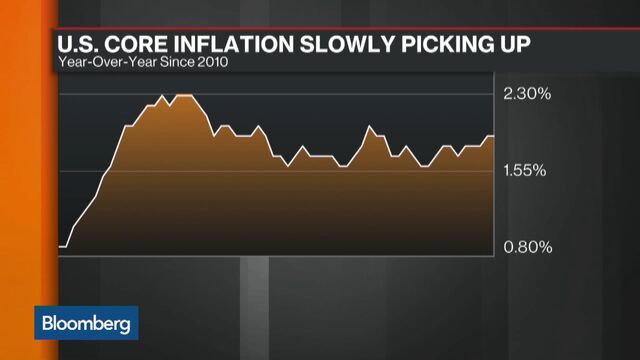 U.S. stocks rallied the most in almost a month as Federal Reserve meeting minutes signaled policy makers think the economy is strengthening enough to withstand higher interest rates as soon as next month, while stressing the pace of any increases will be gradual.
Gains among banks and biotechnology companies led a rally as eight of the S&P 500's 10 main industries rose more than 1.2 percent. A cluster of deal activity ranging from railroads to food manufacturers also helped lift equities Wednesday.
The S&P 500 added 1.6 percent to 2,083.58 at 4 p.m. in New York, rising the most since Oct. 22. The Dow Jones Industrial Average climbed 247.66 points, or 1.4 percent, to 17,737.16. The Nasdaq Composite Index gained 1.8 percent. About 7.2 billion shares traded hands on U.S. exchanges, 3.9 percent below the three-month average.
"Now the question is going to be what it should have been along -- not when, but how far and how fast," said John Canally, chief economic strategist at LPL Financial Corp. in Boston. "They've been trying to communicate not just that the Fed is going to hike in December, but that the dot plots path will be lowered, and that's a good outcome for the market."

Fed officials inserted language into their October statement to stress that "it may well become appropriate" to raise the benchmark lending rate in December and largely agreed that the pace of increases would be gradual, minutes of the meeting showed. A majority of Fed officials have signaled they expect to raise interest rates this year for the first time since 2006.
Equities rallied ahead of the minutes as policy makers earlier signaled confidence in the economy and stuck to the message that rate increases will not be hurried. The S&P 500 had fallen as much as 4 percent after Fed Chair Janet Yellen earlier this month reminded investors that raising rates in December was a "live possibility," and jobs data showed the biggest increase in hiring this year. The gauge has since pared its drop since Yellen's comments to a 1.2 percent decline.
Gradual Pace
Federal Reserve Bank of Atlanta President Dennis Lockhart said today he's comfortable with raising rates soon, and the path of increases will be shallow and slower than in the past. His remarks came during a panel at a Clearing House event in New York. Traders are pricing in a 66 percent probability of a move -- odds that shot up after a stronger-than-expected October jobs report on Nov. 6.
As policy makers assess the strength of the economy, data today showed new-home building declined more than projected in October, led by a slump in apartment construction. On the positive side, construction permits for single-family homes increased the most since 2007, indicating ground-breaking will rebound in coming months.
"It's the pace and the duration now that's the topic of conversation as opposed to when liftoff will take place," Kevin Mahn, president of Parsippany, New Jersey-based Hennion & Walsh Asset Management Inc., said in phone interview. "The next thing the bull market needs is reassurance from the Fed that the economy is on stable ground, and that will come in the form of a rate hike."
The Chicago Board Options Exchange Volatility Index fell 11 percent Wednesday to 16.85, the most since Oct. 22. The measure of market turbulence known as the VIX has rebounded about 12 percent in November after posting its biggest monthly drop ever in October.
Deal Activity
Among companies moving on corporate news, Apple Inc. climbed 3.2 percent after Goldman Sachs Group Inc. added the shares to its "conviction buy" list. Norfolk Southern Corp. gained 6.4 percent as Canadian Pacific Railway Ltd. pursues a merger with the railroad. Fairchild Semiconductor International Inc. rallied 8.5 percent after ON Semiconductor Corp. agreed to buy it for $2.4 billion. ConAgra Foods Inc. advanced 4 percent amid a plan to spin off its Lamb Weston food-service business.
All of the S&P 500's 10 main industries advanced, with health-care and financial shares the best performers, up more than 1.8 percent. Utilities and phone companies were the only groups rising less than 1 percent after erasing earlier declines.
The Nasdaq Biotechnology Index climbed 2.9 percent to rise for a fourth day. Gilead Sciences Inc., Biogen Inc. and Celgene Corp. each added more than 3.4 percent. Allergan Plc led the S&P 500's broader health-care group, advancing 4.5 percent.
A rally in banks bolstered the financial group. Citigroup Inc. and Bank of America Corp. increased more than 2.4 percent, while the KBW Bank Index gained 2.1 percent as all 24 of its members rose.
The benchmark's technology sector climbed 1.6 percent, with another acquisition in the semiconductor group adding to the more than $90 billion of global chip deals in the past year. Fairchild Semiconductor rose to its highest price in more than five months. PMC-Sierra Inc. gained 1.9 percent after Microsemi Corp. raised its offer in a deal valued at $2.3 billion. Fairchild suitor ON Semiconductor dropped 7.9 percent, while Microsemi advanced 0.7 percent.
Apple Services
Apple's climb helped boost the sector's performance. The tech giant is transitioning to an "Apple-as-a-service business model" to ease its dependence on selling hardware, according to Goldman analyst Simona Jankowski. Apple, the best performer in the Dow, rose the most in three weeks.
The Nasdaq Internet Index increased 2 percent for its best session in more than three weeks. TripAdvisor Inc. surged 7.1 percent to pace the advance as travel-related companies rebounded. Amazon.com Inc. and Netflix Inc. rose more than 3 percent.
Angie's List Inc. jumped 9 percent to a 16 month high. The company rejected an unsolicited proposal from IAC/InteractiveCorp Tuesday, and people familiar with the matter said shareholders and the board need to review new Chief Executive Officer Scott Durchslag's turnaround plan in the first quarter of next year before considering deals.
The Dow Jones Transportation Average gained 1.7 percent as railroads rallied on Canadian Pacific's interest in Norfolk Southern. Kansas City Southern and CSX Corp. advanced more than 4 percent, while Union Pacific Corp. increased 2.4 percent.
Energy companies erased a 1.2 percent drop on Tuesday, overcoming oil's swings between gains and losses. Consol Energy Inc., the S&P 500's worst performer this year, jumped 7.7 percent for the index's best climb today. Baker Hughes Inc. added 4.5 percent.
Qualcomm Tumbles
Citrix Systems Inc. sank 10 percent, the most more than two years and the day's worst performer in the S&P 500. The company announced on Tuesday plans to cut about 1,000 jobs as it plans to spin off its GoTo business of virtual meeting products.
Staples Inc. and Target Corp. both sank after releasing quarterly results today. Target fell 4.3 percent to a one-year low after online sales growth slowed, underscoring the challenge of competing with Amazon. Staples Inc. lost 2.7 percent after its fourth-quarter forecast missed analyst expectations amid the impact from a stronger U.S. dollar.
Qualcomm Inc. tumbled 9.4 percent to a four-year low after South Korea's Fair Trade Commission accused the chipmaker of violating local competition law in the way it licenses technology to customers. Qualcomm called its practices "lawful and pro-competitive."
With earnings season coming to an end, 74 percent of companies in the S&P 500 that have reported results beat profit estimates, while only 44 percent exceeded sales projections. Analysts project profits for members of the benchmark dropped 3.7 percent, an improvement on a predicted 7.2 percent fall at the start of the season.
Before it's here, it's on the Bloomberg Terminal.
LEARN MORE