Russia Sees Joint Front With U.S., France on Islamic State
by and
Hollande has agreed to full cooperation, Russian officials say

No breakthrough with U.S. yet; Hollande to meet Obama, Putin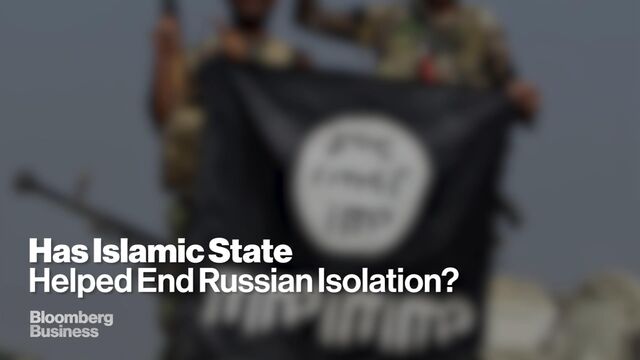 Russia is increasingly confident a deal can be reached with France and the U.S. as early as next week on a coordinated fight against Islamic State that would effectively include Syrian President Bashar al-Assad's forces, two Russian officials said.
The comments are the latest indication that last week's Islamic State attacks in Paris and the downing of a Russian passenger jet over Egypt are pushing Russia and the U.S. toward joint action in Syria. They've previously taken opposite sides in the civil war there. A French official said Tuesday that France is hoping for a coordinated plan by the end of next week, and sees signs that Russia is ready to compromise on its backing for Assad.
While the U.S. has signaled increased openness to working with Russia to defeat
Islamic State and resolve Syria's civil war, President Barack Obama said
Wednesday he needs to see more evidence that Russian forces are focusing their campaign on fighting the extremists. Questioning Russia's approach, Obama reiterated Thursday in the Philippines that Russia will have to make a "fundamental" shift in policy to stop "propping up the Assad regime."
French President Francois Hollande has already agreed to full-scale cooperation with Russia, the officials said, speaking on condition of anonymity because the negotiations are confidential. Hollande, who will visit Washington on Nov. 24 for talks with Obama before meeting President Vladimir Putin two days later in Moscow, now needs to convince the U.S., one of the officials said. The French president told a rare session of both houses of parliament Monday that while Assad couldn't be part of the political solution in Syria, it's Islamic State that is France's "enemy."
Heavy Bombing
Russia and the U.S. have criticized each other for failing to fully commit to the fight against Islamic State because of other allegiances in the Syrian civil war. Obama says Russian airstrikes have often been directed against Assad's less extremist opponents instead of Islamic State, while Putin says the U.S. has also pulled its punches because of its aversion to the Syrian president.
Since the Paris killings, Islamic State in Syria has come under heavier bombardment.
Russia unleashed a barrage of cruise missiles and long-range bombers on targets including Islamic State's Syrian stronghold in revenge for the Sinai plane attack, for which the jihadist group has claimed responsibility. French jets have repeatedly bombed Islamic State's de facto capital, Raqqa, this week. U.S. warplanes struck convoys of trucks that Islamic State was using to smuggle oil it produces in Syria.
---
Paris Attacks: Full Coverage

"We are in a war against jihadist terrorism which is threatening the whole world" President Francois Hollande
---
'Not Coordinating'
The Russian Defense Ministry said late Wednesday that joint combat operations with France will start once the French aircraft carrier Charles de Gaulle, which is being deployed to execute strikes on Islamic State, arrives near the shores of Syria. It added in a statement on its website that Russian aircraft destroyed around 500 fuel trucks and crude refinery facilities in the past few days as part of a new campaign to target Islamic State's oil export capabilities.
The Pentagon said Tuesday that the latest Russian airstrikes did hit Islamic State, though Obama said the U.S. will "wait and see" whether Russia is directing all its fire against the extremist group.
The U.S. military is "not coordinating with the Russians, we're not conducting any operations with the Russians, nor are we planning to do any of those things," Army Colonel Steve Warren, a spokesman for the U.S.-led coalition, told reporters Wednesday.
'Constructive Partner'
Obama called Russia a "constructive" partner in talks aimed at ending the Syrian civil war, though he said differences remain on Assad's departure, which the U.S. and its European and Arab allies say is necessary at some point.
One Russian official said there was consensus at last weekend's Group of 20 summit in Turkey on the need to target Islamic State, though no breakthrough with the U.S. yet. Another said it would be a deal-breaker if the U.S. tries to make Assad's ouster a precondition for an agreement on concerted action in Syria.
Russian Foreign Minister Sergei Lavrov told reporters Wednesday that his country won't agree to bar the Syrian leader from political life, and called on other countries to renounce any link between Assad's future and the battle against Islamic State.
U.S. Secretary of State John Kerry said last week that it's a "non-starter" to expect the Syrian opposition to agree to Assad's leadership, though he also said that "we are still working through with Russia and Iran the question of Assad and his role."
Before it's here, it's on the Bloomberg Terminal.
LEARN MORE