Refugee Crisis Hits Sweden's Rich-Poor Divide Fueling Pay Debate
by and
Swedish labor minister says government may miss jobs goal

Housing market also buckling amid shortfall of dwellings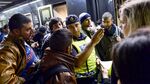 Sweden's plan to absorb hundreds of thousands of Middle Eastern refugees looks set to widen the pay gap in one of the world's most equal societies.
Decades-old practices that have propped up wages and restricted hiring have so far stopped unskilled immigrants from joining the workforce. But with some 350,000 asylum seekers, mostly from Syria and Afghanistan, set to arrive in Sweden by the end of next year, keeping all those people on state handouts rather than letting them do low-paid jobs looks untenable.
"We're stuck," said Jonas Hinnfors, a political science professor at Gothenburg University. "Pressure is increasing on politicians to try something new."
Sweden's high entry-level salaries put low-skilled immigrants at a disadvantage. Start gross pay for workers aged 18 to 24 was 22,800 ($2,615) a month in 2014, equivalent to just over $31,000 a year, according to median pay data compiled by the Confederation of Swedish Enterprise. That's a mere 13 percent lower than the median salary for all workers.
But Labor Minister Ylva Johansson says she doubts that cutting wages for unskilled workers "would be a good model." She also says the refugee influx means Sweden may miss a key election pledge of achieving the European Union's lowest jobless rate by 2020.
Despite its generous asylum policies, Sweden has lagged behind other countries in helping new arrivals integrate by getting jobs. According to the country's National Audit Office, only 53 percent of the refugees who arrived in 2003 had a job a decade later. Sweden's national unemployment rate was 7.2 percent in October, the highest level in Scandinavia.
The participation rate in the country is already high, so "the potential of the labor force to grow in the short-term might therefore be very limited," Andreas Wallstrom, an economist at Nordea in Stockholm, said in a note. "The refugees arriving during this autumn will most likely not affect the official statistics before late 2016 at the earliest."
Sweden's labor market is one of two areas so far to have escaped liberalization. The other is housing, where the flow of refugees is now exacerbating the gap between supply and demand. The estimated number of asylum seekers through next year will be equivalent to more than 3 percent of Sweden's population of 9.8 million.
Given there's already a lack of housing in Sweden, the situation looks "frightening," said Robert Bergqvist, chief economist at SEB, a Swedish bank. "I don't really know how we're going to solve this to be honest." Riksbank Governor Stefan Ingves on Thursday described the property market as a "blind spot" in Swedish economic policy.
According to Hinnfors, the government may be forced to cut unemployment and sick-leave benefits as immigration puts pressure on public finances. But Prime Minister Stefan Loefven has made clear he will do everything to support "strong social insurance and welfare." He says "that won't change just because people come here from abroad."
Covering the cost of Loefven's good intentions may prove difficult. Finance Minister Magdalena Andersson has already drawn criticism from Sweden's Fiscal Policy Council for opening the door to unfinanced budgets as she tries to deal with the cost of absorbing so many refugees. And the bond market was quick to show its disapproval, with the spread between Swedish and German debt yields widening over the past week.
John Hassler, an economics professor and chairman of the Swedish Fiscal Policy Council in Stockholm, says the case for greater wage disparity is now stronger because of the refugee influx.
"It's not rocket-science," he said. "We roughly know what works, but the problem is that these things have negative side-effects from a political point of view."
Before it's here, it's on the Bloomberg Terminal.
LEARN MORE