Police Don't Yet Know If Ringleader Killed in Paris Terror Raid
by and
Police fire off 5,000 rounds as they assaulted terror hideout

Female extremist blows herself up as police storm apartment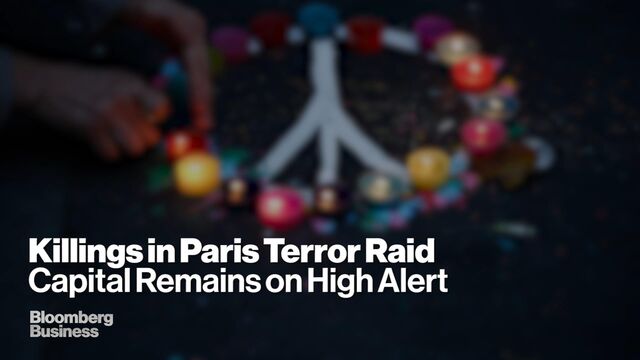 The raid on a hideout near Paris on Wednesday was so violent that police fired 5,000 rounds and aren't even sure how many militants died in explosions that left the building unsteady. What's more, they don't know if the presumed ringleader of the Paris attacks is among those killed.
The predawn raid was ordered after witnesses, telephone surveillance and a text message found on a discarded mobile phone suggested the presence of Abdelhamid Abaaoud, the suspected Belgian architect of last Friday's murders in Paris that took the lives of 129 people in a series of coordinated assaults at a sports stadium, a concert hall, and restaurants and bars.
Seven men and one women were arrested in the raid, and police are still working to identify them, Paris prosecutor Francois Molins said in a news conference in the French capital. At least two of the extremists died in the assault and investigators are still studying remains to establish if more were killed. Five policemen were wounded.
Neither Abaaoud nor Salah Abdeslam, a suspect in the killings, were among those arrested, Molins said. The prosecutor, however, said it was too early to say if they were among those slain.
Here is Molin's account of the operations: The assault on two apartments in the center of the Paris suburb of Saint-Denis began at 4:20 a.m., but the element of surprise was lost when the initial police blasts failed to burst the reinforced doors.
Another Attack
The besieged occupants fired back and a woman blew herself up. By 4:45 a.m., the police managed to make their way into an apartment where they arrested three men, one of them wounded. Later, two more people were found hiding in the rubble and arrested. Three more were taken into custody in a nearby apartment and on the street.
The police eventually had to leave the building because the explosions had damaged the structure, Molins said. For most of the day, the area was surrounded by police, soldiers and vehicles, including military trucks. Schools were closed and nearby buildings were evacuated.
The gunmen, Molins said, were likely planning to carry out new attacks in the Paris region. 
"Given their arms and their determination, this group was ready to go into action," he said.
Before it's here, it's on the Bloomberg Terminal.
LEARN MORE