technology
Obama Plays Matchmaker for Philippine Startup Using Salt in Lamp
By , , and
Company makes lamps, phone chargers that work with seawater

White House staff discovered SALt during online search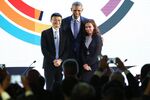 Until this week, Aisa Mijeno was yet another entrepreneur struggling to raise money for her startup in the Philippines. Then she got a call from the White House.
Now the 31-year-old engineer is getting global attention after President Barack Obama offered to play matchmaker for her company, which builds lamps that run on seawater. Mijeno, the co-founder of SALt, shared a stage Wednesday with Obama and Alibaba Group Holding Ltd.'s Jack Ma at the Asia-Pacific Economic Cooperation summit in Manila.
In a televised discussion about climate change before business and political leaders, the environmentalist pitched her marquee product: a lamp working off seawater, or a mixture of tap water and salt, to help people on the Philippines' 7,000 islands who have difficulty accessing kerosene or who depend on candles.
"We also need a lot of support in terms of funding," she said. "That's our main challenge right now."
To which Obama replied: "I'm serving as a matchmaker here." The audience cheered.
Washington Call
Mijeno's whirlwind started when she got a call from the White House asking her to join a panel that Obama would moderate. She thought it was a prank call. It turns out the U.S. president wanted to speak with the head of a startup, and his staff found her online, Mijeno said in an interview.
She was so excited she slept only three hours and almost fainted onstage during the conversation with Obama and China's second-richest man.
Mijeno developed her idea for SALt, an acronym for Sustainable Alternative Lighting, after trekking in the mountains of Kalinga in the northern Philippines, where she saw people walk six hours every other day to buy lamp fuel. That's when the electrochemist hit upon the idea of lighting that works off a resource covering 70 percent of the planet -- water.
Her LED lamp, which avoids the hazards of a combustible fuel, retails for about $20. The rods that drive the process can last six months.
"Electricity is a basic need, light is a basic need and we should be addressing that," she said at the APEC forum.
Mijeno's moment with Obama shone a spotlight on other Philippine startups, Monchito Ibrahim, deputy executive director of the country's Information and Communications Technology Office, said in a text message. The government provides tax exemptions for companies like SALt and wants to help at least 500 startups with a combined value of about $2 billion, he said.
SALt needs money and assistance to move into mass production, Mijeno said. Investors have offered to buy her startup, yet Mijeno said she's looking for partners to help build a research-and-development unit to make power generators fueled by the sea.
"We want to be the Philips of renewable energy," Mijeno said.
— With assistance by Clarissa Batino
Before it's here, it's on the Bloomberg Terminal.
LEARN MORE