Nasdaq Wants Feedback on Requiring Shareholder Votes for M&A
by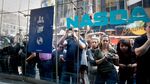 Nasdaq Inc. wants to hear from you on whether it should update rules requiring a shareholder vote on corporate actions such as takeovers.
The owner of the Nasdaq Stock Market is asking for public comment through Feb. 15 on its shareholder-approval rules. That includes a provision that requires equity owners to vote when a Nasdaq-listed company wants to issue shares amounting to a 20 percent stake to fund a takeover of another company. "It has been suggested that the 20 percent threshold is restrictive," Nasdaq said.
"These rules were adopted in 1990 and over the last 25 years, the capital markets and securities laws, as well as the nature and type of share issuances, have evolved significantly," Nasdaq said in its request for feedback. "As a result, certain provisions of the rules may no longer serve their original shareholder-protection purpose and others may no longer make sense."
Any change would affect the thousands of companies -- including giants like Apple Inc. and Microsoft Corp. -- that list their shares on Nasdaq. Other items Nasdaq wants feedback on include some private placements of stock and equity issuance that results in a change of control of a company.
Before it's here, it's on the Bloomberg Terminal.
LEARN MORE