Iran to Unify Rial Exchange Rate With Dollar After Nuclear Deal Implemented
by
Seif says Iran needs currency access to unify exchange rate

Central bank governor says economy to grow 5 percent next year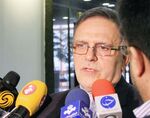 Iran plans to unify the rial's exchange rates with the dollar after the nuclear accord signed with world powers is implemented, according to the country's central bank Governor Valiollah Seif.
"We have a very stable currency market, but to proceed toward a unified exchange rate requires accelerating the country's access to foreign currency," Seif said in an interview in Frankfurt on Wednesday. "It can happen once the nuclear deal is implemented, maximum six months after that."
The agreed lifting or suspension of sanctions on Iran is expected to begin in the first quarter of next year following verification that the Islamic Republic has met its commitments on dismantling its nuclear program. The unfreezing of assets worth at least $30 billion and access to international finance and foreign direct investment may follow.
Under the terms of the deal, most of Iran's banks will be reconnected to Swift, the global financial messaging system that facilitates bank transfers.
Iran has both an official exchange rate to the dollar and another rate that is used in unregulated markets. The rial traded at 35,750 per dollar on the street on Wednesday, compared to the official rate of 29,970 cited on the central bank's website.
Depreciation
The rial lost about 80 percent of its value in the year to late 2012 as a result of sanctions. Since President Hassan Rouhani took office in August 2013, the central bank has tightened credit and stabilized the currency.
The central bank's role is to "smoothen fluctuations of exchange rates," Seif said. But "if we allow the rate to be defined by the economic realities and decided by the market the bank's only role will be to prevent shocks," he said.
Iran's economy will expand less than 3 percent this year, with growth rising to 5 percent in the Iranian year starting March 2016 boosted by oil sales, industrial output and tourism, he said. Inflation will fall to "single-digits" next year, from 13 percent, he said.
Rouhani has said Iran needs $150 billion in investment to achieve the 8 percent economic expansion that can lower the country's chronic youth unemployment.
Iran has "100 billion euros worth of projects, which investors can review and choose from either by partnering, or financing them, or through direct investment," Seif said. "Given the country's geographic location, its mines reserves and the vast market around, Iran is in a position to create a good market for Europe's developed industries so that in partnership, they can produce goods in Iran and sell in the region."
Before it's here, it's on the Bloomberg Terminal.
LEARN MORE