Huckabee Sued Over Use of 'Eye of the Tiger' Song at Kim Davis Rally
by
Composer of `Rocky III' soundtrack hit sues for infringement

Says Republican candidate is copyright holder and knows better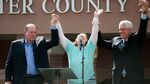 Mike Huckabee pumped up the crowd at a rally for a Kentucky clerk jailed over her refusal to issue marriage licenses to gays with the 1980s rock anthem "Eye of the Tiger" blaring in the background.
Now the Republican presidential contender is facing a lawsuit by the co-writer of the song, accusing him of embracing the political tradition of borrowing music without permission at campaign events.
Frankie Sullivan, who co-wrote "Eye of the Tiger," which won a Grammy as the theme song performed by Survivor for the movie "Rocky III," says Huckabee should know better than to infringe music rights.
Huckabee is a musician who has played at public events and holds more than a dozen copyrights to his name, according to Wednesday's complaint in Chicago federal court. Huckabee even won a Music for Life Award from the National Association of Music Merchants, according to the lawsuit.
Sullivan also claims the former governor of Arkansas is a repeat offender, having been warned by the group Boston during his 2008 run for president to stop playing its hit "More Than a Feeling" at campaign events.
Alice Stewart, a spokeswoman for Huckabee's campaign, had no immediate comment on the lawsuit.
Sullivan's Rude Music Inc. sued former House Speaker New Gingrich in 2012 for using the same song at campaign rallies in his bid for the Republican nomination to challenge President Barack Obama. The two sides agreed to dismiss the lawsuit that year without disclosing any terms in a court filing.
The case is Rude Music Inc. v. Huckabee for President Inc., 15-cv-10396, U.S. District Court, Northern District of Illinois (Chicago).
Before it's here, it's on the Bloomberg Terminal.
LEARN MORE