France Weighs Threat to Biggest Diplomatic Event Since 1948
By and
About 40,000 people due at UN global warming conference

March planned for Nov. 29 canceled amid security concerns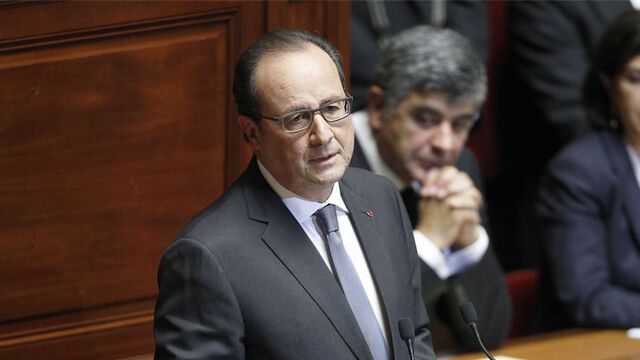 As the police work to uncover the terrorist network that murdered 129 people in Paris, the French government is turning its attention toward how to maintain security at its biggest diplomatic gathering since 1948.
Foreign Minister Laurent Fabius, who will preside over a two-week United Nations summit on global warming, told France Inter radio on Thursday that the country's forces couldn't guarantee the security of public demonstrations. The French government late on Wednesday canceled a march expected to draw tens of thousands of demonstrators to the city later this month, a prelude to the UN talks.
Police cited last week's terrorist attacks, according to a statement from Coalition Climat 21, an umbrella group of activists planning the march. Organizers estimated more than 100,000 people would attend the Nov. 29 march. A series of demonstrations planned for Dec. 12 was also canceled. Advocates said French authorities offered no alternatives for mass mobilization on the eve of the historic negotiations.
"Our voices will not be silenced," Nicolas Haeringer, a campaigner for the advocacy group 350.org, said in a statement. "While this makes it difficult to go forward with our original plans, we will still find a way for people in Paris to make the call for climate justice heard."
Obama, Xi
About 137 heads of government and state including U.S. President Barack Obama and China's Xi Jinping will meet in the French capital starting Nov. 30 for the UN talks, according to Fabius. The two-week event, more than a year in the making, will draw at least 40,000 delegates including businessmen and celebrities such as actor Leonardo DiCaprio and Apple Inc. CEO Tim Cook.
It also will bring to Paris thousands of activists urging swifter action to limit fossil-fuel pollution damaging the atmosphere. France had already restored border controls and planned police deployments to safeguard the climate event even before the bloodshed of Nov. 13. The massacre left them scrambling to balance the need to limit obvious targets with the ambition of environmentalists to be heard.
"March or no march, in Paris thousands of people will use their collective imagination to project their voices into the UN climate talks," said Jean-Francois Julliard, executive director of the French wing of Greenpeace, an environmental group."When they do so, voices will ring loud in the ears of the politicians inside."
Largest Gathering
A series of smaller marches and other climate-related events around the world will go on as scheduled the weekend of Nov. 28 and 29, according to the activist coalition, which represents more than 130 non-governmental organizations.
"We call on people across the world to join in and march for us in solidarity, to express our demands and echo our voices," Alix Mazounie, international policy coordinator for RAC France, an umbrella group of NGOs, said in an e-mailed statement.
The meeting will be the largest diplomatic gathering in France since 1948, when the Universal Declaration of Human Rights was adopted. The summit, known as COP 21 will be held at the Le Bourget airfield north of central Paris, with side events and related conferences spread throughout the city. Another event called the "action day" was set for Dec. 5, according to the UN.
"The event is exceptional due to the number of very, very important people who will be visiting," said Clement Laloux, marketing director at the Paris tourism office. "There are
very high expectations for the level of security and the quality of accommodation and transportation services. At the very least, Paris' reputation as a host city for this type of event is at stake."
French Interior Minister Bernard Cazeneuve has been holding weekly meetings to monitor preparations.
Border Checks
Earlier this month, the French government decided to restore border controls to ensure the safety of about 10,000 delegates from 195 countries. There will also be thousands of journalists and some 7,000 representatives of local authorities and non-governmental organizations as well as another expected 20,000 visitors. 
Thousands of police and soldiers will be deployed in the city amid significant risks of terror attacks, according to Cazeneuve's office.
Violent Protests
Authorities are concerned similar events in previous years became a magnet for protests that turned violent.
In 2009, riots during a North Atlantic Treaty Organization summit in Strasbourg, in eastern France, led police to close a bridge over the Rhine connecting the city to Germany after anarchists set up barricades on the French side. In 2001, during a Group of Eight meeting in Genoa, in Italy, the historical center where heads of state and government gathered was sealed by iron gates for the event. One demonstrator died and 180 were injured in the protests.
World Leaders
Such security concerns have led French President Francois Hollande to shelve a plan to gather heads of state for a souvenir picture at the Elysee palace, at the heart of Paris, RTL reported. Instead, the picture will be taken at the venue itself on Nov. 30 at Le Bourget, said a COP21 organizer who asked not to be named in line with government policy. Most leaders will come and go on that day, said a spokeswoman for Hollande's office, asking not to be identified.
Several heads of state will be staying at luxury hotels in the center of Paris and holding meetings in embassies. Special protection measures including police controls and traffic limitations will be set up for those buildings and surrounding streets, Brandet said. Those areas include the Opera neighborhood, where Paris' landmark departmental stores including Galeries Lafayette are located.
The climate talks themselves are an annual event that's staffed by UN security guards, who are flown into the host city specially for the conference. Delegates typically have to go through security every day at the conference venue, with airport-style baggage scanners and metal detectors deployed for searching.
The French have experience in policing such events. During a Group of 20 meeting in Cannes in 2011, over 10,000 personnel were deployed. The government is planning to tap into its reserve of 30,000 agents, which includes retired policemen. Hundreds of policemen will be in charge of escorting delegations, limiting traffic in certain areas, and guarding hotels and embassies or other buildings where meetings will take place.