Five Things Everyone Will Be Talking About Today
Time to get caught up on what's been happening in markets
By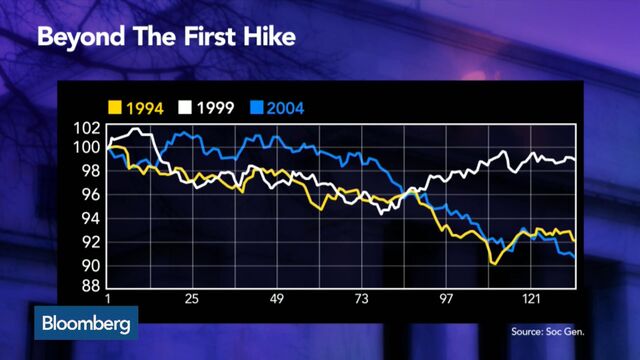 Markets await the Fed minutes, Xi warns on Chinese growth and the Treasury-G7 spread is at its widest since 2007. Here are some of the things that people in markets will be talking about today.
Fed minutes
Details of October's FOMC meeting are due to be released at 2 p.m. ET today. Investors will be reading the minutes very closely for any hints on the likelihood of a December rate hike and the pace of hikes once the tightening begins. 88 percent of economists surveyed by Bloomberg say the Fed will hike next month. The dollar, which reached a seven-month high of $1.0631 against the euro on Tuesday, weakened 0.3 percent to $1.0675 to the euro as of 11:00 a.m. in London.
Xi sends a warning
Chinese President Xi Jinping warned that the country's economy faces "considerable downward pressure" at the Asia-Pacific Economic Cooperation chief executives summit in Manila. Meanwhile, in China fear is spreading in the investment community as a crackdown by authorities is targeting hedge funds, traders and even the market's watchdog in an anti-corruption campaign. 
Sovereign debt divergence
Sovereign debt spreads are widening as investors look to Fed tightening and ECB easing in December. The extra yield on two-year Treasury notes over their G7 peers has widened to 76 basis points, the most since 2007. In the euro-area, meanwhile, Germany this morning sold two-year notes at a record-low yield of minus 0.38 percent.
M&A and IPOs
Monsanto Co. says it is evaluating another takeover bid for Syngenta AG, the world's largest pesticide maker after state-owned China National Chemical Corp. made on offer for the company. Canadian Pacific Railway Ltd. has gone public with its unsolicited bid for Norfolk Southern Corp. in an attempt to woo the company's U.S. shareholders, promising "a sizable premium." Mobile payments company Square Inc is scheduled to price its IPO today, with the company seeking a market value of $4.2 billion. The IPO is seen as a test of investor appetite for so-called 'unicorns.' 
Commodities
There seems to be no end to the squeeze on commodities at the moment, with industrial metals once again feeling the brunt. Zinc is the latest to fall to a six-year low as concerns over Chinese growth increased following Xi's overnight comments. Miners are also in a difficult situation, with Glencore, the FTSE's worst performer this year, now seen facing an uphill battle to drive through its debt-cutting plan and BHP Billiton under pressure from commodity prices and the recent disaster at its Brazilian mine.
What we've been reading
This is what's caught our eye over the last 24 hours.
Want to receive this post, and more, into your inbox every morning? Sign up here