Decision-Day Guide: BOJ Forecast to Refrain From Further Easing
by and
Even as GDP data confirms recession, BOJ expected to stand pat

Some say weak growth gives Kuroda a reason to move if he wants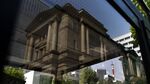 The Bank of Japan Thursday will discuss its progress toward meeting its 2 percent inflation target after a report earlier this week confirmed that the economy slipped into a recession in the third quarter.
All 41 economists surveyed by Bloomberg forecast the central bank won't expand its already unprecedented asset-buying program. It currently conducts policy to increase the monetary base at an annual pace of about 80 trillion yen ($649 billion).
Still, a chance for more easing can't be ruled out entirely at the conclusion of the two-day meeting, said Kazuhiko Ogata, an economist at Credit Agricole SA. Two consecutive quarters of contraction -- which meet the common definition of a recession -- give Governor Haruhiko Kuroda a reason to act if he chooses to do so, Ogata said.
Economists are divided on the likelihood of policy change later this year and in 2016. Twenty-one of the economists in the survey conducted Nov. 13-17 project another expansion by April while one predicts it in November 2016. Nineteen say the bank is done with adding to stimulus.
The BOJ typically announces its policy decision in the early afternoon, after which attention turns to Kuroda's news conference at 3:30 p.m. in Tokyo. Here is what to watch:
Economic Assessment
Japan's economy contracted by 0.8 percent in the three months through September, following a 0.7 percent decline in the previous three months.
The contractions "won't give enough reason for the BOJ to consider more stimulus," said Hideo Kumano, an economist at Dai-ichi Life Research Institute and former central bank official. "The BOJ isn't weighing so much on recent economic data as it puts more importance on the long-term price trend."
While Monday's gross domestic report showed a pickup in consumer spending and exports, capital spending dropped in its first back-to-back decline since 2011 in a sign of little confidence among companies for strong growth.
Any increase in concern from Kuroda about the weakness in corporate spending and wages could indicate he's thinking more about expanding stimulus further. Prime Minister Shinzo Abe has been urging companies to put their record profits into capital investment and higher salaries.
Forecast Shift
Many analysts have changed their view as to when Kuroda may decide on further easing, after the BOJ didn't act at its Oct. 30 meeting. For those forecasting easing, January is the most popular pick with 12 predictions. Seven are looking to April.
Almost all economists said the BOJ won't meet its price target within the new time frame of around six months through March 2017. An increasing number of economists are turning away from the timetable for this target -- which has been delayed twice this year -- for predicting the bank's policy.
Kuroda blamed low oil prices for the delay in reaching the BOJ's price target when he left policy unchanged last month.
Yen Focus
Some analysts are watching the level of the yen for clues on the timing of another boost in monetary stimulus.
HSBC Holdings Plc and SMBC Nikko Securities Inc. expect the yen at about 115 per dollar could push the BOJ to bolster stimulus. The yen has weakened about 25 percent since Kuroda began his program in April 2013. The weaker yen has helped companies boost profits and pushed Japan's Nikkei-225 Stock Average to its highest level since 1996.
HSBC sees Japanese policy makers as no longer desiring aggressive yen depreciation and instead preferring the yen to trade stably in the range of 115-125 against the dollar.
The yen weakened about 2 percent since the policy meeting on Oct. 30 as investors increased their bets for a rate hike by the Federal Reserve in December, making a difference clearer with Japan.
Fed, ECB
European Central Bank President Mario Draghi has signaled the bank would bolster monetary stimulus next month while Fed officials have suggested the U.S. central bank at its December meeting would consider raising interest rates for the first time since 2006.
"A rate hike by the Fed is likely to weaken the yen further and that will reduce the need of additional easing by the BOJ," said Koichi Kurose, an economist at Resona Bank Ltd.
Yutaka Harada, one of nine BOJ board members, said last week that a potential shock to markets and emerging economies from a U.S. rate increase on markets is a risk for Japan's economy.
Exit Question
The Bank of Japan last week signaled a desire to increase its reserves, a step that would provide a greater cushion against any eventual losses stemming from its unprecedented monetary expansion.
That could help the BOJ in the future if it is trying to exit from its current policy. For now though, Kuroda has said that any loss in the balance sheet won't stop him from expanding stimulus when needed.
Measured by the core inflation gauge, Kuroda is a long way from his goal. But the bank has also noted a price measure that excludes fresh food and energy, which rose 1.2 percent in September.
Before it's here, it's on the Bloomberg Terminal.
LEARN MORE