Food
Daniel Boulud's Lobster Roll Recipes Are Easy, Party-Winning Bites
By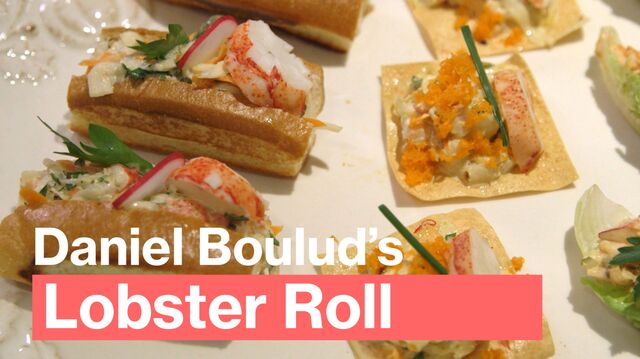 Nailing the appetizers is key to a successful cocktail party. (Well, that and booze—such as this Negroni Punch recipe from our 2015 Holiday Entertaining Guide.)
As part of our 2015 Holiday Entertaining Guide, Michelin-starred chef Daniel Boulud, shares an easy way to wow your guests: lobster salad, three ways. 
Boulud banks on the bites' "wonderful array of taste, texture, and color" (thanks to carrot, radish, and fennel in the classic base recipe), amped up with Vadouvan curry and smoked paprika, or simply served, classic lobster roll-style, on a mini hot dog bun. The fact that you can make it ahead of time as well, then sit back and enjoy the party, makes this the perfect festive nibble.
Note: Don't be intimidated at the prospect of boiling a live lobster. It's easy! But if you're pressed for time, pre-packaged lobster meat (or even chunk crab) can work.  

Lobster Salad, Three Ways
From Daniel Boulud of Daniel
Makes 25 to 30 appetizer portions
Ingredients
1 small carrot, coarsely grated
½ small fennel bulb, trimmed and coarsely grated
6 pink radishes, trimmed and coarsely grated
1 4-inch piece daikon radish, peeled and coarsely grated
½ cup mayonnaise
3 cornichons, chopped
1 tablespoon small capers, rinsed, dried and chopped
1 tablespoon freshly squeezed lemon juice
1 ½ teaspoons Dijon mustard
1 ½ teaspoons flat-leaf parsley, chopped
1 ½ teaspoons chives, chopped
1 ½ teaspoons tarragon leaves, chopped
6 drops Tabasco
Salt and freshly ground pepper
12 ounces cooked lobster meat (about 3 1½-pound lobsters), cut into ½-inch chunks
Method
Squeeze the grated carrot, fennel, and radishes between your hands to remove any excess liquid, then transfer to a large bowl. Add all the ingredients except for the lobster meat and mix well to combine, then toss in the lobster and stir until coated. Finish using any of the four methods below.
To Make Mini Lobster Rolls
Gently brush the sides of store-bought mini hot dog buns with melted butter, and toast in a sauté pan set over medium heat. Fill each roll with 1 to 2 tablespoons of the lobster salad and garnish with chopped flat-leaf parsley and sliced radish.
To Make Curried Lobster Pappadoms
Mix 1 teaspoon of yellow curry spice, such as Vadouvan, to every 2 cups of the lobster salad, stir well to incorporate, and let the salad marinate in the refrigerator for at least 30 minutes.  Cut 3 sheets of store-bought pappadom into 6 small squares each, and fry in 350⁰ oil until golden and crispy (approximately 40 seconds). Transfer directly to a paper towel-lined tray and season with a salt. Top each piece with 1 tablespoon of the curried lobster salad and garnish with finely grated carrot.
To Make Smoky Lobster Toasts
Mix 1 teaspoon of smoked paprika into 2 cups of the lobster salad and stir well to incorporate. Cutting on a bias, slice a fresh baguette into 12 pieces about ½ an inch thick each. Brush with softened butter and toast in a 350⁰F oven for about 10 minutes, or until golden and crisp. Remove and let cool for at least 15 minutes. Top each piece of baguette with 1 tablespoon of the smoked-paprika spiced lobster salad and garnish with an extra pinch of paprika.

Video Credits


Shooter: John Manning
Shooter: Max Rosen
Shooter: Adam Wolffbrandt
Editor: Amy Marino
Producer: Nathalie Milbank
Before it's here, it's on the Bloomberg Terminal.
LEARN MORE