China, Kenya Urge Burundi Dialogue to End Deadly Conflict
Helen Nyambura-Mwaura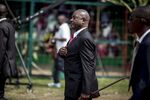 Kenya and China urged Burundian President Pierre Nkurunziza to begin discussions with his opponents to end six months of violence that have killed more than 240 people.
"The buck stops with President Nkurunziza," Kenyan President Uhuru Kenyatta said during a meeting with China's Special Representative on African Affairs, Zhong Jianhua. "That is why we are encouraging him to involve all parties in the search for a solution to the conflict."
Zhong said China, which has vast interests in East Africa, is increasingly concerned over Burundi's escalating conflict, according to an e-mailed statement from Kenya's presidency.
Violence in Burundi, home to 6 percent of the world's nickel reserves, escalated with Nkurunziza's re-election in July, with opponents saying the result violated a two-term limit set out in peace accords that ended 12 years of civil war in
2005. More than 200,000 people have fled to neighboring countries since he announced his bid for another term in April as killings target both government and opposition supporters.
Medecins Sans Frontieres said it treated 60 people wounded in grenade blasts in several neighborhoods of the capital, Bujumbura, on Monday morning. At least five people were killed in the city over the weekend, witnesses and national radio said that same day.
"We opened a second operating room and performed five emergency surgeries in the hours that followed," Richard Veerman, program director for the Geneva-based medical charity, said Wednesday in an e-mailed statement.
Before it's here, it's on the Bloomberg Terminal.
LEARN MORE