China Gets Cold Shoulder as Obama and Aquino Tout Friendship
by and
Aquino touting Philippine-U.S. alliance amid China tensions

Obama visited Philippine warship during Manila visit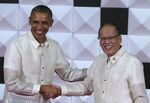 In the Philippines any meal large or small is seen as a joyful occasion, according to the country's president. As he walked into dinner Wednesday with U.S. President Barack Obama by his side, laughing and joking, Benigno Aquino was both having fun and sending a message.
Dressed in traditional Philippine white shirts and dark trousers, Obama and Aquino led a gaggle of 21 Asia-Pacific leaders attending their annual summit in Manila. Bringing up the tail was Chinese President Xi Jinping, who walked in with Mexico's Enrique Pena Nieto.
Aquino is hosting this year's Asia-Pacific Economic Cooperation forum. That has provided him the chance to display his country's strong strategic alliance with the U.S. as the Philippines fends off China's increasing assertions to the South China Sea, a key waterway claimed in part by both nations.
Obama has certainly assisted: After arriving Tuesday one of his first appointments was to tour a Philippine warship that's a decommissioned U.S. coast guard vessel and has been involved in a standoff with Chinese boats in the South China Sea.
Aquino told his dinner guests the meal would not include a policy discussion. "Occasions like this not only allow us to strengthen old friendships, they provide us an opportunity to make new ones," he said. "Here in the Philippines a meal is always seen as a joyful occasion, no matter how simple the fare." He led a toast to the future of APEC where "no one is left behind."
"When a Filipino is about to have a meal, he is always compelled to share what little food he might have with anyone around. Even if they are complete strangers," Aquino said.
For Thursday's APEC family photo the leaders wore dark suits. Xi stood in the front row next to Australia's prime minister, while at the back Japanese Prime Minister Shinzo Abe and South Korean President Park Geun Hye shared what appeared to be a private moment. Obama, who walked in with Canadian Prime Minister Justin Trudeau and waved for the cameras as he stood four from Xi's left, shook hands with the Chinese president.
Economic Leverage
The Philippines is dwarfed economically by its larger northern neighbor, and China is the largest trading partner of the 10-member Association of Southeast Asian Nations, giving it leverage in its territorial disputes with South China Sea claimant states.
Speaking Wednesday after a meeting with Aquino, Obama called for bold steps to lower tensions on the South China Sea. "We're not claimants ourselves but we fully support a process in which through international laws and international norms these issues are resolved," he said. The U.S. backs the Philippines' decision to try to bring China before an international arbitration court over their dispute, Obama said, before announcing the transfer of two more ships to the Philippines.
China's land reclamation work in the waters underscores that its "military modernization is challenging decades of U.S.-led peace and stability in the Asia-Pacific region," a commission created by the U.S. Congress said in its annual report.
U.S. Warship
Xi in turn urged APEC leaders to "foster an environment of peace" in the region through dialogue and cooperation. He didn't mention the South China Sea in his remarks to a gathering of corporate chiefs at APEC.
The U.S. has been increasingly drawn into the South China Sea tensions. Last month it sailed a warship close to a reef reclaimed by China in what the Obama administration called a freedom-of-navigation operation. Two U.S. B-52 bombers were challenged by Chinese air controllers on a recent flight, though the planes did not fly within 12 nautical miles of China's artificial islands.
The theme of Wednesday's APEC dinner was tropical, and the evening was humid enough. A band of traditional drummers played loudly as the leaders strolled along the red carpet and into the Mall of Asia arena. Later the leaders were serenaded by seven different acts, including rapper Apl.de.Ap, one of the Black Eyed Peas who is Filipino-American.
Trudeau Selfies
Palm fronds and other shrubbery were placed strategically around the location. The leaders could could be seen mingling, chatting and sipping wine inside the arena, which is normally used for sporting events.
The dining room was decked out like a black box with dark fabric on the walls and large white decorative hangings framing colored lights on the ceiling. The tables were covered in black cloths with black napkins, with centerpieces of white flowers surrounding candles.
Newly-elected Trudeau -- who has enjoyed rock-star coverage in the local media -- took his time getting to his chair. His spot though had his name tag, with locals taking advantage of the moment, lining up to take photos in his chair.
The menu included Balut panna cotta -- an interpretive version of the Filipino delicacy that is fertilized duck egg -- according to a Twitter post by Thelma San Juan, the lifestyle editor of the Philippine Daily Inquirer who attended the dinner. They were also served a local seafood stew.
Watch Next: Protesters, Police Clash Near Manila Meeting Venue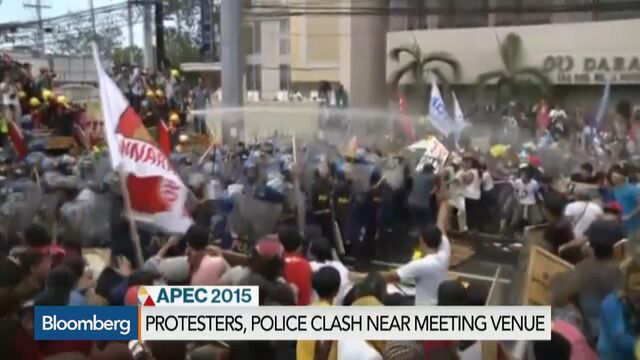 Before it's here, it's on the Bloomberg Terminal.
LEARN MORE