Photographer: Andrew Harrer/Bloomberg
Charting the Markets: Fed Minutes Loom Large
Tick, tock, tick, tock...
by and
Global stocks are little changed after a two-day gain as investors await the release of minutes from the Federal Reserve's last policy meeting. Expectations for a U.S. rate hike have shot up from 35 percent on Oct.27 to 66 percent, according to Bloomberg data. Elsewhere, the Bank of Japan starts a two-day meeting just days after it was revealed the economy sank into a recession. Don't expect any change in stimulus. That's the view of all 41 economists surveyed by Bloomberg News.

The widening spread - or difference - between the yield of U.S. two-year notes and their G-7 peers is now 76 basis points, the widest since July 2007. That reflects the view the Federal Reserve is ready to raise interest rates for the first time since 2006. It also highlights a divergence in monetary policy between the world's biggest economies. While the Fed contemplates tighter policy, the European Central Bank has signaled it's ready to boost stimulus next month, while the Bank of Japan has pushed back its deadline to achieve stable 2 percent inflation, raising the possibility of more bond-buying. 

The sell-off in industrial metals continues unabated. Zinc has fallen to its lowest since July 2009 as concerns persist about slowing demand from China. The dollar's strength is also weighing on the metal used to galvanize steel. The Bloomberg Dollar Spot Index has risen to its highest in a decade ahead of next month's Fed meeting, making dollar-denominated commodities more expensive for buyers in other currencies. Output cuts from miners including Glencore have failed to halt the rout in industrial metals, which have plunged 25 percent in 2015, according to a London Metal Exchange index.

France's CAC 40 Index dropped on news that at least two people were killed as police raided an address in northern Paris. Air France-KLM shares opened lower after two Air France flights bound for Paris were forced to divert to alternate airports amid a bomb scare. Today's decline in French stocks follows the biggest one-day gain in six weeks. The gauge has rebounded 13 percent since falling to nine-month low in September.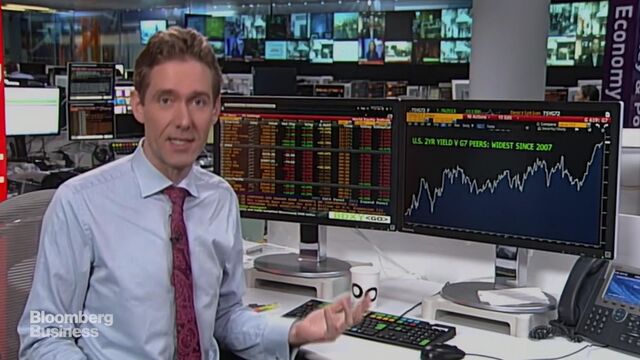 Mark Barton is a presenter on Bloomberg TV. Follow him on Twitter @markbartontv
Before it's here, it's on the Bloomberg Terminal.
LEARN MORE