Charles Cawley, Who Built MBNA With Credit-Cards, Dies at 75
Hugh Son and Stephen Miller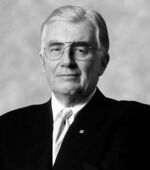 Charles Cawley, who founded MBNA Corp. and built it into an affinity credit-card empire that was sold to Bank of America Corp. for $35 billion, has died. He was 75.
He died Nov. 18 at his residence in Camden, Maine, his son-in-law Michael Rhodes said in a telephone interview. No cause was given.
Cawley, who was chief executive officer, started the company as Maryland Bank National Association in a former A&P supermarket in Ogletown, Delaware, in 1982. The firm grew to become the world's largest credit-card issuer by persuading organizations, including universities, sports teams and philanthropies, to sponsor cards backed by MBNA.
"We don't have a culture, we have an attitude," Cawley said, according to a 1997 story in the New York Times. "Our attitude is every customer gets satisfied."
Where many other card issuers used computer models to decide who qualified, MBNA added human screening of each application, ensuring higher-quality customers, Cawley said, according to a 1997 article in U.S. Banker.
"I think our way is the cheapest way because it's geared toward low losses," he said.
Cawley retired in 2003 after disagreements over compensation.
Strategic Acquisition
In 2006, Bank of America, under then-CEO Kenneth Lewis, bought MBNA seeking to gain scale in every major retail banking business.
As borrower defaults rose, the new parent company wrote down the card unit's value by $10.4 billion in 2010 and then revised that figure to $20.3 billion in 2011 as new consumer regulations reduced the industry's prospects. By 2014, Charlotte, North Carolina-based Bank of America folded the card division into its retail bank.
"Charlie Cawley was MBNA," Anne Pace, a Bank of America spokeswoman in Charlotte, said in an e-mail. "He taught the people of MBNA about the importance of attitude, of thinking of themselves as customers and of doing what is right. We are fortunate to have that legacy as a part of Bank of America today."
Cawley had homes in Maine and Florida, and collected antique automobiles. In both 2002 and 2003, his total compensation topped $50 million, according to a 2004 story in the New York Times. After he retired, the company sold its two yachts, two planes and some of its artworks.
Charles M. Cawley was born on Aug. 15, 1940, in Beverly, Massachusetts, and grew up in New Jersey. In 1962, he earned a bachelor's degree from Georgetown University in Washington, D.C., according to an article on the school's website. Cawley went to work as a credit officer at Maryland National Bank in
1972. He became a vice president in the bank's consumer loan department before heading its credit card division.
Related ticker: BAC US (Bank of America Corp.)
Before it's here, it's on the Bloomberg Terminal.
LEARN MORE